CCL 5 Final Match Telugu Warriors Won Trophy Against Chennai Rhinos2
Celebrity Cricket League 5 (CCL 5) was held in Rajiv Gandhi International Stadium in Uppal, Hyderabad on Sunday, 1 February at 03:00pm in the evening. Fans of both Tollywood and Kollywood enjoyed the match every much seeing their favorite stars playing. But may be the fans fans of Kollywood got a bit disappointed because they missed the trophy.
In  CCL 5 match on Sunday finally Telugu Warriors won the trophy against Chennai Rhinos.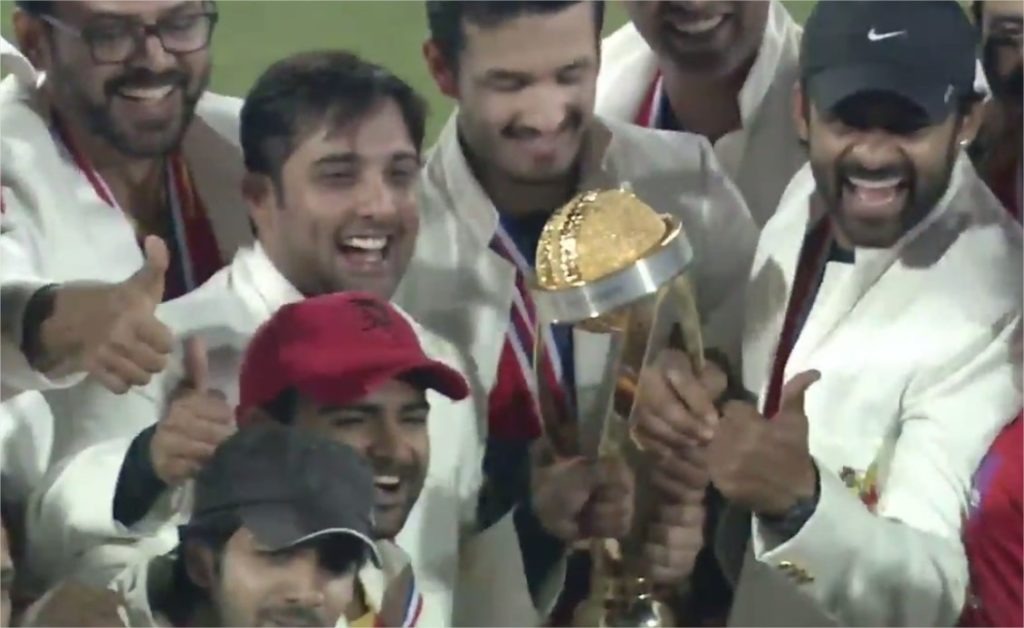 Telugu Warriors in CCL 5 :
Telugu Warriors played semi final match with Mumbai Heroes  and won the match, Telugu Warriors defeated them by 8 wickets. Chennai Rhinos played with Karnataka Bulldozers in the semi final and defeated them. So these both teams were selected for the final championship of CCL5.
Captain of Telugu Warriors  Akhil Akkineni won the toss. He choose fielding first. Akhil Akkineni said," I want to take fielding first, when we won the toss we chased very well our opponent. Our team openers are so good that they are ready to take any total score. We are happy with that"
CCL 5 Hightlights :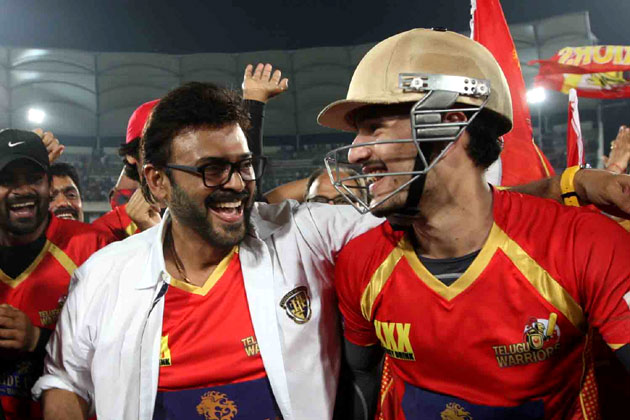 After Akhil Choosing the fielding Chennai Rhinos took to batting. They scored 132 runs for the loss of 5 wickets in 20 overs. Prithvi 31 runs (25 balls), Vikranth 23 runs (25 balls), Vishnu 21 runs (27 balls), Shantanoo ), 21 runs (22 balls), Jiiva 21 runs (17 balls) played well and collected good score.

Tamil stars Chennai Rhinos set a target for Telugu  Warriors, the Warriors chased the target showed their great performance, Fans of Tollywood was very happy to see their stars winning the trophy. Sachin Joshi 37 runs (24 balls), Sudhir Babu 35 runs (37 balls), Akhil32 runs (21 balls) played very well. Telugu  Warriors won the trophy after five years.
Here we have provided you the Scores for the CCL 5 match.
Chennai Rhinos innings
Runs
Balls
4s
6s
Ramana
c Dharam b Raghu
0
3
–
–
Vikranth
c sub (Vishwa) b Adarsh
23
25
1
–
Vishnu
c Akhil b Samrat
21
27
3
–
B Shantanoo
c Akhil b Adarsh
21
22
3
–
Prithivi
not out
31
25
 4
 –
Jiiva
c Nandakishore b Akhil
21
17
1
 Sharan
 not out
 0
 0
 –
 –
Arya
still to bat
Bharath
still to bat
A Selvan
still to bat
Shaam
still to bat
Extras
(2 lb, 3 lb, 10 w)
15
Total
(5 wicket, 20 overs)
132
Fall of wickets: 1-1 (Ramana, 0.3 ov), 2-38 (Vishnu, 7.1 ov), 3-62 (Vikranth, 11.1 ov), 3-62 (Shantanoo 13.3 ov), 5-126 (Jiiva, 19.2 ov)
| | | | | | | |
| --- | --- | --- | --- | --- | --- | --- |
| Telugu Warriors bowling | Overs | Mdns | Runs | Wkts | Wides | No-Balls |
| Raghu | 4 | 0 | 15 | 1 | 2 | – |
| Prince | 3 | 0 | 20 | 0 | – | – |
| Samrat | 2 | 0 | 13 | 1 | 2 | |
| Sachin Joshi | 4 | 0 | 24 | 0 | 2 | – |
| Adarsh | 3 | 0 | 25 | 2 | 1 | – |
| Nandakishore | 2 | 0 | 13 | 0 | – | – |
| Akhil | 2 | 0 | 17 | 1 | 1 | – |
Telugu Warriors innings
Runs
Balls
4s
6s
Prince
c Bharath b Jiiva
12
15
–
–
Sachin Joshi
c Shaam b Jiiva
37
24
5
2
Sudhir Babu
not out
35
37
2
2
Raghu
c Sharan b Selvan
11
11
1
–
Akhil
not out
32
21
2
2
Samrat
did not bat
Nandakishore
did not bat
Adarsh
did not bat
T Ratna
did not bat
Tarun
did not bat
Dharam
did not bat
Extras
(9 w)
9
Total
(3 wicket, 18.1 overs)
136
Fall of wickets : 1-50 (Sachin Joshi, 5.6 ov), 2-55 (Prince, 7.3 ov), 3-87 (Raghu, 11.4 ov)
| | | | | | | |
| --- | --- | --- | --- | --- | --- | --- |
| Chennai Rhinos bowling | Overs | Mdns | Runs | Wkts | Wides | No-Balls |
| Arya | 4 | 0 | 22 | 0 | 2 | – |
| Vishnu | 4 | 0 | 26 | 0 | – | – |
| Vikranth | 3 | 0 | 25 | 0 | 2 | – |
| Jiiva | 3.1 | 0 | 33 | 2 | 3 | – |
| Slvan | 4 | 0 | 31 | 1 | – | – |
 Watch CCL 5 – Telugu Warriors Vs Chennai Rhinos