[WATCH VIDEO] How Cylinder Turned Into 'Rocket' After Blast In Bhopal's Watch Showroom
The New Market in Bhopal is famous for local and street shopping. But on Monday, the market witnessed a scary incident which almost escaped a big blast.
A 30-kg carbon dioxide cylinder of a restaurant shot through New Market like a deadly rocket, crushing the leg of a security guard and injuring two saleswomen at a watch showroom next-door. The whole incident was captured on the CCTV camera of the watch showroom.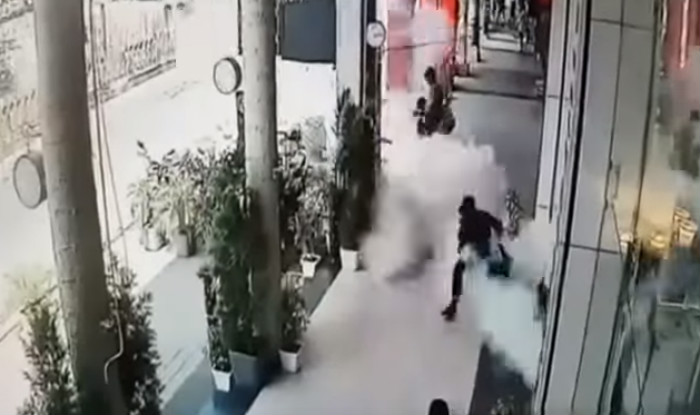 The video clip shows two men of a fast-food center trying to fix the valve of the gas cylinder when it suddenly blasted and flew off like a rocket. The three-second terror smashed toughened glass into smithereens and made everyone around skip a heartbeat or two.
It is really a miracle that the injured count isn't worse. As it was a Monday, New Market had only a few people that block its streets in the run-up to Diwali. The missile slammed into a wooden closet in the watch showroom, and that is where it thankfully stopped.
The two men trying to fix the valve of the cylinder were hitting the cylinder with a hammer to loosen the valve. Guard Bhaiyalal Soni, who was on duty outside the Times Square watch showroom, said, "I asked Rupesh not to hit the cylinder but he did not listen. The cylinder turned into a projectile and shot off towards the showroom. Had it exploded, it might have caused severe causalities."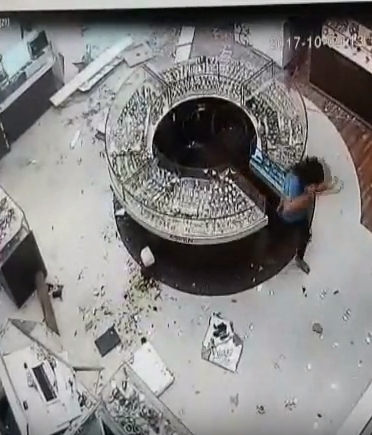 The cylinder broke the leg of Soni's colleague Laxman Yadav, and smashed the showroom's 25-foot-high glass facade and some display counters, sending glass shards shooting in all directions. Salesgirls Geeta Jaisani and Sadaf Khan were hurt. While Geeta suffered head injuries, Yadav has been admitted to ICU.
Watch The Video Here:
According to police, Rupesh said that he was trying to fix the leak but accidentally opened it. TT Nagar SHO Mahendra Singh Chouhan said, "A case on charges of negligence has been registered against the two employees and they have been detained."
The CCTV present inside the store showed numerous watches getting damaged because of the incoming cylinder-rocket. Despite the chaotic scenario, everyone would consider themselves lucky to escape the dangerous episode with insignificant loss.
Also Watch: Horrific Accident In Bhopal, Over-Speeding Car Rams Into Pedestrians, Video Recorded On CCTV