Fall of the Berlin Wall: An accident that changed the world-25th Anniversary
The Berlin Wall was a barrier that existed from 1961 through 1989, constructed by the German Democratic Republic (GDR, East Germany) starting on 13 August 1961, that completely cut off (by land) West Berlin from surrounding East Germany and from East Berlin until it was opened in 1989. The barrier included guard towers placed along large concrete walls, which circumscribed a wide area (later known as the "death strip") that contained anti-vehicle trenches, "fakir beds" and other defenses.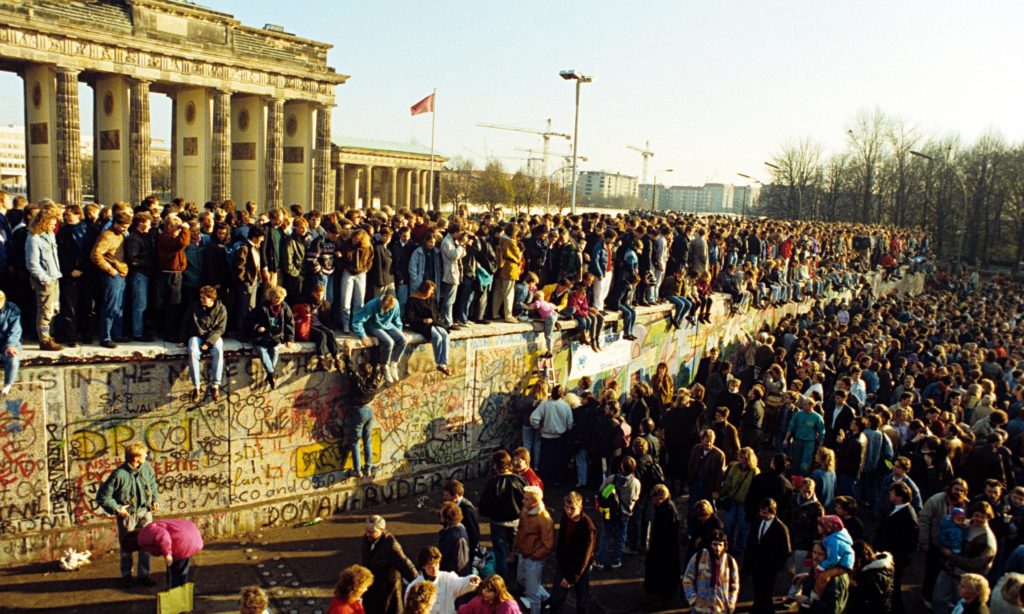 Responding to a question by an Italian journalist at a press conference on Nov. 9, 1989, Guenter Schabowski, the spokesman for East Germany's Central Committee, announced that East German citizens would be able to travel to the western part of the city. The unintentional comment caused thousands of East Germans to rush to the barricade, demanding to be allowed to cross.
It was late on a Saturday night in August 1961, when a group of young East German servicemen were handed a startling order: they were to move up to the borders between allied West Berlin and Soviet-occupied East Berlin and "expect some sort of conflict". But instead of weapons, they were given construction equipment and told to build a wall. Overnight, the border would be closed. Seventeen million people would be trapped inside the barbed wire and hastily dug ditches that would morph into the geopolitical monstrosity known as the Berlin Wall.
West Berlin citizens celebrate in the eastern part of the Checkpoint Charlie border crossing in West Berlin, Nov. 9, 1989, after the announcement by communist East Germany that it would open its borders to the west.
This weekend, celebrations throughout Germany are marking a quarter-century of freedom since the Berlin Wall was toppled, precipitating the demise of the German Democratic Republic, as the Communist regime in the east styled itself.
The Size and Scope of the Berlin Wall:
The Berlin Wall stretched over a hundred miles. It ran not only through the center of Berlin, but also wrapped around West Berlin, entirely cutting West Berlin off from the rest of East Germany.
The first two versions of the wall (barbed wire and concrete blocks) were replaced by the hird version of the Berlin Wall in 1965. This version consisted of a concrete wall, supported by steel girders. The fourth version of the Berlin Wall, constructed from 1975 to 1980, was the most complicated and thorough. It consisted of concrete slabs reaching nearly 12-feet high (3.6 m) and 4-feet wide (1.2 m), plus it had a smooth pipe running across the top to hinder people from scaling the Wall.