Malayalam Good Night Messages And Images
The night is that time of the day when you can relax to get rid of exertion. Wishing good night is certainly a good gesture that shows your concern and best regards for a peaceful night for your loved ones. Science believes whatever runs in your mind throughout the day, especially when you are about to nod off, becomes your dream. So, send the beautiful collection of Malayalam good night SMS, wishes, images for Facebook, WhatsApp, Instagram picture SMS. You can easily share good night wishes image to friends, family and loved ones. Here are some good night wishes and images you can forward to your family members, friends, colleagues etc…
Good Night Messages In Malayalam:
1.Nom urangan kidannootto..
Ksheenam Isshy unde….
Nammod virodham onnum illyacha….
Nammude vakayayi oru
Shubha Rathri Angad sweekarikya…!!
2.Pakshikal Urangi…..
Sooryanum Urangi…..
Kattum Urangi……
Nee Mathram Enthe Urangiyilla.?
Ooh!
Njan Marannu…
Ente Good Night Kathirikkuvnalle..!!
GoOd NiGhT & SwEeT DreaMs…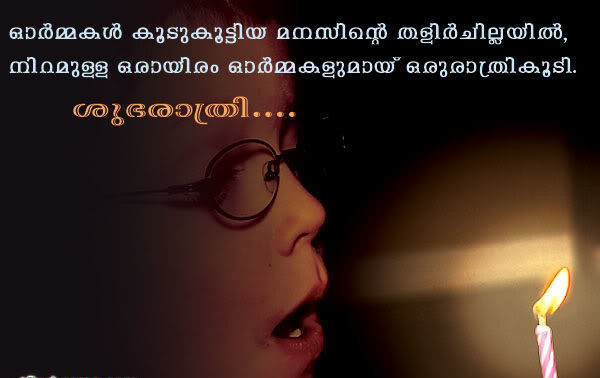 ('v') ('v')
(( )) (( ))
_"__"_ _"__"_
Oru Karyam Parayatte…?
Chevi Kanikku…
('v') <' ) (( )) (/ /)- _"__"__"__"_ "~ Good Night ~"
4.Nalla Nilavulla rathri,
Sukha seethalamaaya kattu,
Nidra devi mizhikale punarunnu,
.
.
Enkil aare nokki irikuva
Poyi kidannu Urangada..
Good night & sweet dreams.
5.Super Maths magic:
Oru sangya manasil Vijarikkuka
Add 10
Multiply by 10
Minus 5
Ippo Oru Answer
kitiyille ??
Press down…
Kittum
Kittanam
Kitathirikkilla!!
Athanu MATHS.
Good evening.
Good Night Wishes:
6.Thirakku pidicha oru dinam koodi
Jeevithathil ninnum kozhiyumbol;
athinte andya yaamangalkku munbe
pathivupole innum njan ninne orthu….
Snehapoorvam shubharathri.!!!
7.PULI Urangumpol Nammal Puliye Unarthiyalum,
Nammal Urangumbol PULI Nammale Unarthiyaalum
Pani namukku Thanne.
.
So,
Don't disturb me!
I am going to sleep.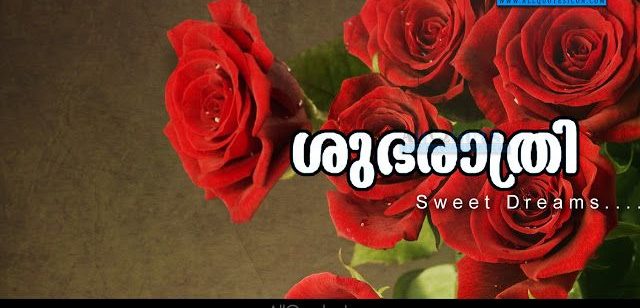 8.Manjil nananja rathriyil
Nilavil kulichu nilkunna
Chembaka Marachillayil Ninnoru Raapadiyude
Sneha Sandhesham Nerunnu
Oru Nalla Shubha Rathri.
9.Naaleyude Poomottukal Thedi Pokumpol;
Kozhinju poya Innalekal Marakkathirikkuka.
Bcoz, Orikkal Nammodoppam
Aa Innalekal Mathrame Undayirunullu.!
Sweet dreams. !
10.Innu Rathri urangubol kothuku kadikkilla!
Bcoz…
.
.
My "GOOD NIGHT" Will take care of U.
But…
Chilappo Urumbu kadichekkam.!
Bcoz..
I Wish U very SWEET SWEET DREAM.
Good Night Wishes In Malayalam:
11.Oru Rathri kondu Swapnangal theerunilla.
Oru Swapnam kondu Jeevithavum,
Athu kondu Kathirikkam
Nalla Oru Nalekku Vendi.
Good night & Sweet dreams.!
12.Enthei,
Ante anakkam illalo?
Enthayalum ingaloru karyam ortholeen,
Njammalu mayyath aayittillaa.!
Pidikk saithane oru
Good night!!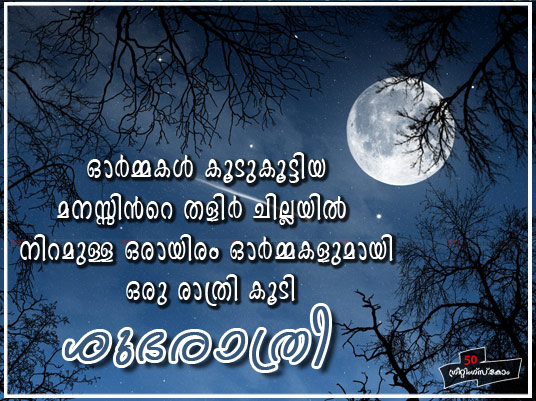 13.Punchiri kondu poonilavum,
Vakkukal kondu thenmazhayum,
Sneham kondente hrudayavum,
Niracha ente suhrithinu..
Shubha Ratri..
14.Urangiyo.?
Atho urangan pokunneyullo?
Atho urangi kazhinjo?
Atho ini urangunnille?
Atho urakam vannitum urangthe irikukayano?
Enthu kunthamayalum
GOOD NIGHT da.
15.Orotta urakkam mathi neram velukan,
Manikutty odi thudangi;
Athinte purake pokathe poyi kidannurangiko.
Shubha nidhra Sukha nidhra
DHE kidannu DHA urangi.
Good Night Images In Malayalam: