Jhabua blast: At least 104 killed in cylinder explosion in Madhya Pradesh
At least 104 people were killed in the LPG cylinder blast that occurred in Madhya Pradesh, India on Saturday morning. The massive explosion took place when the gelatin sticks stored along with LPG cylinders in the house of a resident in Petalwad town in Madhya Pradesh's Jhabua district.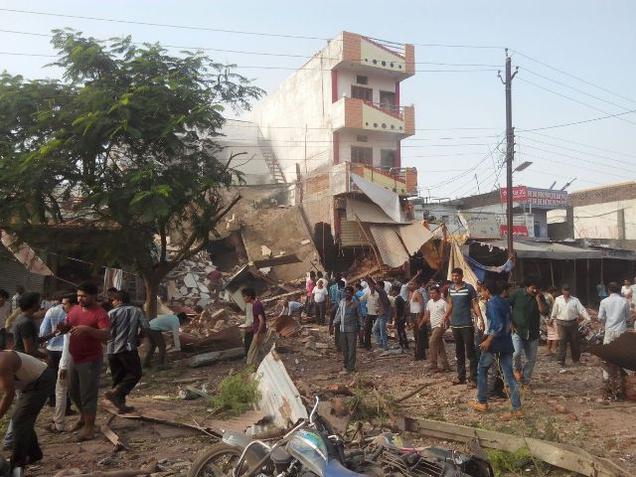 Initial reports, that quoted police officials, suggested that the cylinder blast actually took place when a cooking gas cylinder exploded in a packed restaurant. The restaurant was located in a three-storey building while the explosives were stored in another house that resulted in the explosion. According to sources, the blast took place in the house of one Rajendra Kumar Kaswa who had stored gelatin sticks in his house along with LPG cylinders. There were conflicting reports on whether the house in which the gelatin sticks were stored was in the same building as the restaurant or the adjacent one.
The blast occurred at around 8:30 am in a store in a building where huge piles of explosive material, used for mines, were kept, AR Khan, sub-divisional officer of Police (SDOP), Petlawad said.
A team of National Disaster Response Force (NDRF) has been dispatched to Jhabua to help in the salvage operations of the collapsed building.
The extent of the damage was far worse when the first explosion had triggered another one shattering nearby buildings. The death toll rose rapidly from an initial count of 20 to 104 after the rescuers recovered bodies from the debris of the destroyed restaurant and neighboring houses.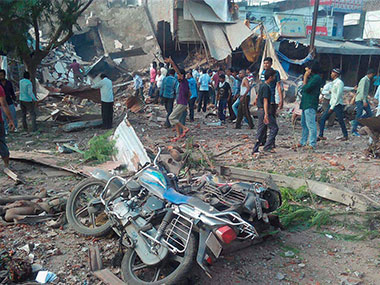 "There are 104 confirmed deaths at the moment. Eighty-two postmortems have been carried out and 22 are still pending," M. L. Gond, an inspector in charge of Jhabua's police control room, told Arun Kumar Sharma, chief medical officer of Jhabua district. "My information is that 60 people are injured, but the number could be higher," he said.
Madhya Pradesh Chief Minister Shivraj Singh Chouhan took to twitter to express his sadness at the loss of life. "The Jhabua tragedy is heart wrenching. I offer my condolences to the families of the victims and pray for the speedy recovery of those injured," Chouhan said.
Prime Minister Narendra Modi also took to Twitter and expressed his condolence for the loss of lives. "Extremely pained at the loss of lives due to the cylinder blast in Jhabua," Modi said.
Extremely pained at the loss of lives due to the cylinder blast in Jhabua. My deepest condolences to the families of the deceased: PM

— PMO India (@PMOIndia) September 12, 2015
The Madhya Pradesh CM also announced compensation amount of Rs 2 lakh to the families of the dead and 50,000 rupees to help the injured victims.