Meet Prema Ramappa Nadapatti, The First & Only Female Bus Driver of BMTC
Have you noticed a middle-aged lady smoothly driving a passenger bus? "Women are bad drivers," we often hear people say and it's about time this propaganda ends. Prema Nandapatti, the only female driver in the Bengaluru Metropolitan Transport Corporation (BMTC) has set an example for all those who think that women are exceptionally good at doing many things other than driving.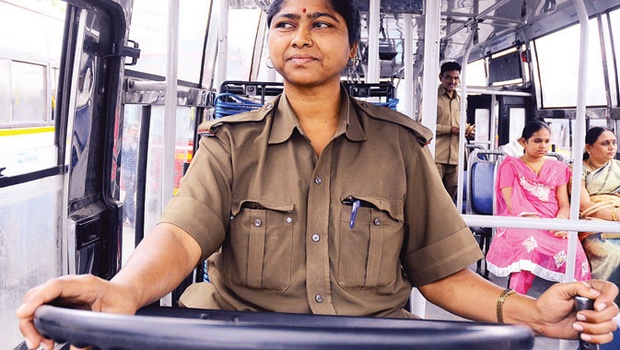 When Prema Ramappa Nadapatti quit her job as a nurse to become a bus driver in 2009, she had no clue she was so ahead of time. Prema, 35, who hails from a little village called Bhairnaddi in Belgaum, was fond of driving since she was young but had never thought of it as a profession. It was only after her husband passed away that she stepped out of the house to provide for her aging mother and 11-year-old son.
Though she already had four-wheeler driving license a decade ago but driving a bus was nothing like driving a car. So, she learnt to drive a lorry and got herself a heavy transport vehicle driving license. Then she applied to the BMTC, after she got selected at BMTC, she received a month's training before she started off on Route No. 171.
Now, five years into her the job, Prema is still the only female driver in the Bengaluru Metropolitan Transport Corporation (BMTC). Six more women were selected by the BMTC later for the post of driver-cum-conductor, but they preferred to work as conductors, giving Prema the unique title. The BMTC has over 3,000 female employees, half of who work as conductors.
Prema's unique work ethic has earned her praise in the organisation. Three years ago, when the BMTC bus drivers struck work for a day, Prema was the only employee to report for duty. The BMTC management was clearly pleased by her and she was offered a cheque of Rs 10,000 from the transport minister following which, Murugarajendra Mutt of Chitradurga also gave her a cheque of Rs 5,000.
She starts her shift early and does not mind working extra hours if needed. Unlike many other bus drivers, she holds a 'no accident' record so far. She is often called "daredevil" by her colleagues. With her passion mixed with duty, she hopes of driving Vayu Vajra airport buses one day.
Those women who break the stereotypes and carve their way to success in unconventional fields capture everyone's heart and give courage to those who are dreaming of similar careers. We salute women like Prema Nandapattin, who have the courage to change the obstacles into opportunities.