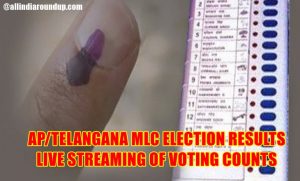 Telangana MLC Election Results Live Vote Counting of Votes – MLC Graduate Elections
MLC Election Results Live Counting of Votes: MLC elections held on 22nd March 2015 in the states of Telangana and Andhra Pradesh are ready for the voting counting. GHMC special commissioner Navin Mittal has said that Votes or electorates counting of Graduates Constituency of Hyderabad, Rangareddy and Mahabubnagar districts for the MLC Elections would start out at 8 am today i.e., March 25, 2015.
Live Streaming of MLC Elections for Graduate Constituencies
Elaborate arrangements are made for the counting of electoral votes with 28 tables where staff with three shifts at the Victory Playground Indoor Stadium near Chaderghat in the Hyderabad city would assist in counting the votes. Until any contesting candidate of MLC Elections gets more than 50 percent of votes polled till then the counting takes place through the elimination process and thereafter the candidate would be declared winners after Election Commission of India (ECI) waves clearance for him as a winner.
MLC Live Counting Results Declared:
1). TDP Candidate A.S Ramakrishna wins from GUNTUR-KRISHNA Teachers MLC Graduate Constituency.
2). MLC Election Result of Mahbubnagar-Ranga Reddy-Hyderabad Declared
BJP candidate N Ramachander Rao wins giving shock to ruling TRS party candidate G Deviprasad with a margin of 13,318 votes
' alt="">
Election Commission of Andhra Pradesh and Telangana have proclaimed that this term a poor percentage of 42 was registered in the first constituency which may rise till the last voter cast his vote. Graduate constituency of Hyderabad, Rangareddy, and Mahabubnagar which is the first constituency has witnessed 50 per cent voting percentage in Mahbubnagar, 40 per cent voting percentage in Ranga Reddy and 37 per cent voting percentage in Hyderabad. Second graduate constituency has registered 53 per cent which comprises Nalgonda, Khammam, and Warangal districts. Five lakh graduates were to exercise their franchise from 8 am to 4 pm on 22nd March 2015 Sunday in a total of 700 polling stations for the MLC Elections.
AP/Telangana MLC Election Results 2015 Live Counting Update Latest
Despite wooing the voters and electorates on a large scale by the political parties the voting percentage was registered poorly. Eminent political personalities Devi Prasad, P Rajeswar Reddy, N Ram Chander, Errabelli Ram Mohan Rao and others from various graduate constituencies are hoping fr a positive result. Political leaders from TRS, TDP,Congress, BJP such as Council Chairman Swamy Goud, Union Minister Bandaru Dattatreya, Ministers Mahender Reddy, G Jagadish Reddy, Tummala Nageswar Rao, MP Sitaram Naik, MLAs Srinivas Goud, G Sunitha, Vinay Bhasker, G Kishore, P Ajay Kumar, BJP Telangana president G Kishen Reddy, NVSS Prabhakar and many others casted their votes.
AP MLC Election Results 2015 Live Counting Update Latest

Fourteen tables are arranged for counting of votes of East and West Godavari teachers/graduates MLC constituency elections at the Rangaraya medical college premises here, scheduled for tomorrow. Returning officer and district. MLC Elections in AP which are conducted for the graduate constituencies of East Godavari-West Godavari and Krishna-Guntur Teacher MLC Constituency voting counting has been started off today. Krishna-Guntur Teacher MLC Constituency has 18931 voters registered voters. MLC Elections voting percentage of 84% polling was recorded in both East and West Godavari Districts, 65% polling in Krishna district and 77% recorded in Guntur district. Guntur and Krishna districts are going to see a tough competition between Sri Ramakrishna and UTF Laxmana Rao and in East and West Godavari districts  triangular competition between the Sri Chaitanya Raju, Sri Krishna Rao and UTF Ramu Surya Rao. The MLC Election results of all these constituencies are expected to come out by 10am on the 25th March 2015.
Voting arrangements has been completed for the counting of votes for Guntur-Krishna MLC elections. Two times MLC K.S Lakshmana Rao is locked in a keen contest with A.S. Ramakrishna, supported by Telugu Desam. The counting of votes would begin at St. Joseph College of Education at 8 a.m. Collector and District Election Officer Kantilal Dande inspected the arrangements at the college. He instructed that only pass holders would be allowed inside the hall. District Revenue Officer K. Naga Babu was also present.