MPPEB Vyapam Scam Whistle Blower Rides Bicycle Amid 2 Cops 24/7 Security
Citizens of India and perhaps the rest of the people across the globe would be amazed after being across this strange fact of providing a 24 hours security for a common man in India.  Indian social media has been viral with Madhya Pradesh state citizen (Aam Aadmi)after a recent public promulgation of life threat for him where he is found riding a bicycle and police officer escorting him. Being a whistle-blower of a high profile political scam in Madhya Pradesh Ashish Chaturvedi has been denied police protection despite facing a life threat for several times although he was liable to Whistle Blowers Protection Act, 2011.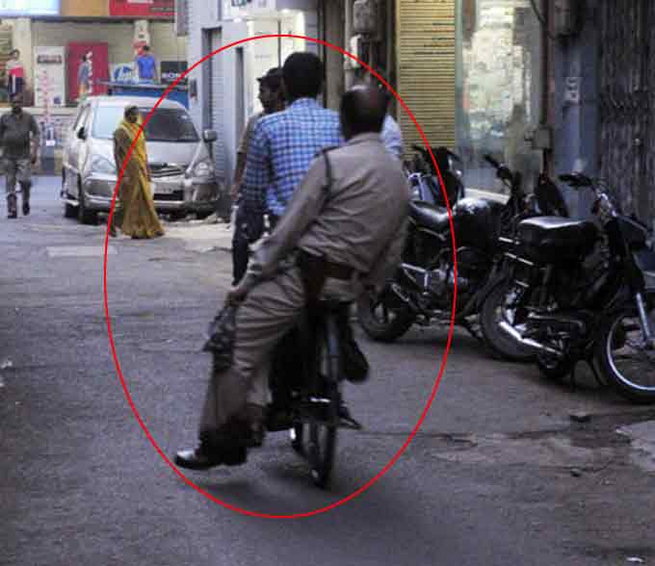 Vyapam Whistle Blower Ashish Chaturvedi Gets 2 Cops 24/7 Security
Specially carved act Whistle Blowers Protection Act, 2011 protects anyone who exposes alleged wrongdoing in government bodies, projects and offices by the by public servants misuse of power for corruption and scams. Ashish Chaturvedi has been a main whistle-blowers of Vyapam scam which was a massive admission and recruitment scam involving politicians, senior officials and businessmen in Madhya Pradesh. Ashish Chaturvedi exposed Madhya Pradesh Professional Examination Board also known as Madhya Pradesh Vyavsayik Pareeksha Mandal (Vyapam) scam and hence two policemen have been appointed to provide him a security. State government has at last gave him a 24X7 security cover after being suffered three attacks on his life including an abduction bid. Although Police cops who are giving security face a high time with his miserable lifestyle and their bounded duty by the state government.
Being unaware of riding a bike Ashish Chaturvedi has been travelling on Bicycle which forces the policemen to travel with in order to provide security. Facing incommodiousness with Ashish Chaturvedi and his mode of travelling in charge police personnel's of his security Assistant platoon commander Hari Prasad Tiwari and Ramlakhan Sharma has now written a letter to ASP Rahul Lodha acknowledging him about the matter.
Letter addressed to the ASP Rahul Lodha briefs "We have been given bike and guns to protect Ashish but he doesn't how to ride bike and hence we have to ride him pillion or travel with him on his cycle. In these circumstances, it is difficult to provide him security. Also, we have not been trained to give security in such situation." However the close aids of Ashish Chaturvedi and the police personnel's have reporting that police are now planning to two security guards on two bikes where one policemen would be riding the bike with him on the pillion and the other will follow him. Stay tuned with us for all live updates and trending posts.