Post-Note Ban, Most Fake Currency Was Caught From Gujarat: Centre
NEW DELHI: Fake notes with overall face value of over Rs. 13.8 crore were seized in the country post-notes ban and the highest seizure of over Rs. 5.94 crore was reported from the state of Gujarat, the Lok Sabha was informed today.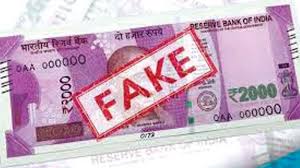 Replying to a question, Minister of State for Home Affairs, Hansraj Gangaram Ahir said as per the data available with the National Crime Records Bureau or NCRB, Fake Indian Currency Notes or FICN of face value of total Rs. 13.87 crore were seized in states bordering Nepal, Pakistan and Bangladesh from November 09, 2016 till June 30 this year after notes ban.
According to the data provided by the minister, there were fake currency notes with face value of Rs. 5.94 crore which were seized from Gujarat, the highest in the country, followed by Rs. 2.19 crore in Uttar Pradesh, Rs. 2 crore in West Bengal, Rs. 1 crore in Mizoram and Rs. 1 crore in Mizoram among others.
"Intelligence and security agencies of the Centre and states keep a close watch on the elements involved in the circulation of fake currency in the country and take action on any reported violation of law," the minister said.
Citing several steps taken by the government to curb their smuggling and circulation, he said the production or smuggling or circulation of fake currency, coin or any other material was counted as a terrorist act under the Unlawful Activities (Prevention) Act, 1967.
He said FICN Coordination Group (FCORD) was formed by the MHA to share intelligence/information among the different security agencies of the state/Centre to counter the issue of circulation of fake currency notes in the country.
"A Terror Funding and Fake Currency Cell (TFFC) has also been constituted in the NIA to investigate terror funding and fake currency cases," he said.
The minister said the steps taken included strengthening of security at international borders by using new advanced surveillance technology, deploying additional manpower for round the clock surveillance, establishing observations posts along the international border, erection of border fencing and intensive patrolling.
A Memorandum of Understanding (MoU) was signed between India and the neighbor Bangladesh to prevent and counter smuggling and circulation of fake currency notes, he added.
The note ban was introduced by the Prime Minister of India to stop fake notes in India. But the step taken has not solved the problem so far at all.
You May Also Read: China's Imports More Compared To Its Exports For First Time In 20 Years