Pradhan Mantri Jan Dhan Yojana To Be Plunged By Prime Minister Narendra Modi Today
Pradhan Mantri Jan Dhan Yojna is an India's most intensive ambitious financial scheme by government of India and a dream project of PM Shri Narendra Modi is going to be launched in in 76 centres across the country. The 'Pradhan Mantri Jan Dhan Yojana' scheme is aimed at financial inclusion of each and every household facilitating them all with a bank account and insurance cover of one lakh. The scheme was initially declared by Shri Pradhan Mantri Narendra Modi during Independence Day Celebrations at Red Fort, New Delhi stating that 'Sabka Sath Sabka Vikas' sui our development philosophy.
It is estimated that around 7.5 crore households ( six crore in rural and 1.5 crore in urban areas) do not have access to any kind of banking facility. The scheme provides every bank account holder with a 'RuPay' debit card accompanied by Rs one lakh accident cover and pension products. To launch Pradhan Mantri Jan Dhan Yojna on August 28, 2014 Prime Minister Narendra Modi has sent an E-mail to all bank officers proclaiming that every household in India must have an bank account and it should be made an national priority such that no Indian is left out without an Bank Account.
Prime Minister Narendra Modi has directed all the banks to take this scheme as a challenging deal and ensure that maximum people get enrolled without any discommode describing the task as an "Gigantic". PM Narendra Modi stated that "We must rise to meet this challenge. There is urgency to this exercise as all other development activities are hindered by this single disability. I am sure we will overcome this situation collectively."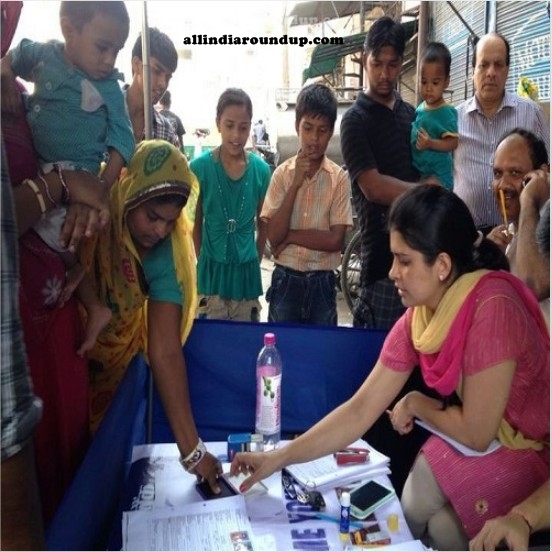 Adding to Prime Minister Narendra Modi this said as the nation moves rapidly ahead in the knowledge era with modern banking and financial systems, it is untenable that a large majority of our population is deprived of basic banking facilities. Sources of PMO had stated that PM Narendra Modi to recognise best performing branches in implementing the financial inclusion Pradhan Mantri Jan Dhan Yojna scheme.
In an email to bankers across the nation PM Narendra Modi articulated as "Put your shoulder to the wheel and try your level best to ensure that no one is left without a bank account. This itself will be a source of immense satisfaction for you and your teams. I will myself recognise the achievements of the best performing branches" provided with all sorts of support to bank officials from PMO in implementing the financial inclusion scheme.
Prime Minster Narendra Modi said that "I sometimes wonder whether we have made matters so complicated that the poor and the marginalised are those who are trapped in a perpetual cycle of exclusion and deprivation. We need to break that cycle and the Jan Dhan Yojana is the first step in that direction. With a bank account, every household gains access to banking and credit facilities. This will enable them to come out of the grip of moneylenders". The scheme will be launched formally by the Prime Minister in Delhi with parallel functions at the State-level, which will be attended by Union Ministers, and also at district and sub-district levels. Camps will also be organised at the bank branch level to raise awareness.
A senior official of the finance ministry explained: "The main launch function will be in Delhi. However there will be 76 simultaneous functions across the country for which cabinet ministers and officers are being deputed. In addition, there will be over 60,000 enrolment camps in rural areas that will be managed by the local branches of the banks. The idea is to generate so much buzz on the first day at the local level that people start demanding an account."
Modi's speech from Delhi will be directly transmitted to all 76 centres and shown on a big screen. Once the speech is over, ministers and officials will take over at the local and regional functions. There will be symbolic distribution of cheque books to a few of the new account holders in each place.
Highlights of the scheme :
The Prime Minister will launch the National Mission on Financial Inclusion named as Pradhan Mantri Jan Dhan Yojana (PMJDY) on 28th August, 2014.
The Mission will be implemented in two phases.
Phase-I from 15th August 2014 to 14th August 2015 envisages.
Universal access to banking facilities for all households across the country through a bank branch or a fixed point Business Correspondent (BC) within a reasonable distance.
To cover all households with atleast one Basic Banking Accounts with RuPay Debit card having inbuilt accident insurance cover of Rs.1 lakh. Further an overdraft facility upto Rs.5000 will also be permitted to Adhaar enabled accounts after satisfactory operation in the account for 6 months.
Financial literacy programme which aims to take financial literacy up to village level.
The Mission also envisages expansion of Direct Benefit Transfer under various Government Schemes through bank accounts of the beneficiaries of.
The issuance of Kisan Credit Card (KCC) as RuPay Kisan Card is also proposed to be covered under the plan.
Phase-II from 15th August, 2015 to 14th August, 2018
Providing micro –insurance to the people.
Unorganised sector Pension schemes like Swablamban through the Business Correspondents.
The major shift in this programme is that households are being targeted instead of villages as targeted earlier. Moreover both rural and urban areas are being covered this time as against only rural areas targeted earlier. The present plan pursues digital financial inclusion with special emphasis on monitoring by a Mission headed by the Finance Minister.
 10 Facts about Pradhanmantri Jan Dhan Yojana

The name "Jan Dhan" was chosen through an online competition on the MyGov Platform and received more than 6000 suggestion from Indian citizens. After evaluation the jury shortlisted "Jan Dhan" which was suggested by 7 individuals.
The slogan for the Pradhanmantri Jan Dhan mission is expected to be " Mera Khata – Bhagya Vidhaata" which when translated into English means " My Bank Account – The Creator of the Good Fortune":
The Logo of the Mission is depicted below :
The primary aim of the Jan Dhan Yojana is to bring poor financially excluded people into the banking system by providing them bank accounts and debit cards.
The scheme will cover both urban and rural areas of India and all bank accounts opened will be linked to a debit card which would be issued under the Ru-Pay scheme. ( Rupay is India's own unique domestic card network owned by National Payments Corporation of India and has been created as an alternative to Visa and Mastercard.)
Every individual who opens a bank account becomes eligible to receive an accident insurance cover of up-to Rs 1 Lakh for his entire family.
The Pradhan Mantri Jan Dhan Yojana has set an ambitious target of bringing in more than 7.5 crore un-banked families into India's banking system by opening more than 15 Crore bank accounts at the rate of two bank accounts per household.
Once the bank account has been active for 6 months and has been linked to account holders Aadhar identity , they would become eligible for an overdraft of up to Rs 2,500 , which would further be enhanced by the bank to Rs 5000 over time.
The Jan Dhan Yojana also seeks to provide incentives to business and banking correspondents who serve as link for the last mile between savings account holders and the bank by fixing a minimum monthly remuneration of Rs 5000.
The long term vision of the Jan Dhan Yojana is to lay the foundation of a cashless economy and is complementary to the Digital India Scheme.
Stay tuned for more updates and trendy posts with allindiaroundup.com.