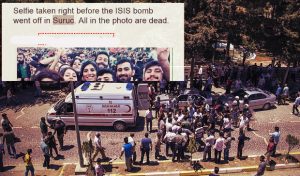 Selfie Taken Right Before the ISIS Bomb Blast in Trukey Yesterday, Dozens Dead
Apparently more than 30 people were found dead in the bomb blast at Suruc, Turkey yesterday. The suicide bombing wiped all the people around leaving blood shed all over the place. At least 100 others were wounded, provincial Gov. Izzettin Kucuk told Turkish media.
The explosion occurred mid-day at the Amara Cultural Park in Suruc where people gathered in a group to help Syrian Kurdish city of Kobani rebuild.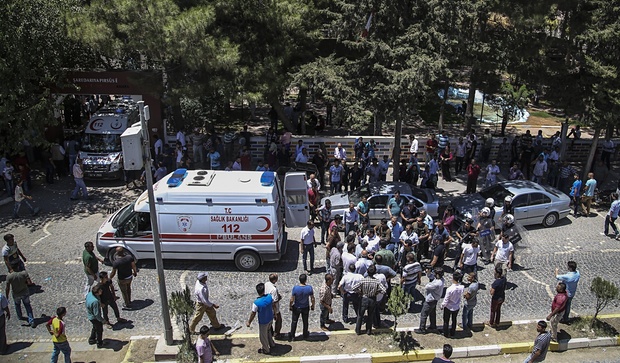 "Kids were screaming, everyone was screaming and running," eyewitness Erhan Subasi told. "Everyone was in a panic but trying to help."
Speaking at a news conference, the Turkish prime minister, Ahmet Davutoğlu, said that preliminary findings pointed to Islamic State having carried out the "clearly terrorist" attack but he added: "We are not at a point to make a final judgment."
Local hospitals told Turkish media that 76 people were wounded in the bombing, several of them severely. The ministry said the death toll was expected to rise. "I saw more than 20 bodies," one witness told Reuters by telephone. "It was a huge explosion, we all shook."
Investigators and forensic teams on site of suicide bombing in #suruc #turkey that left at least 30 dead pic.twitter.com/4YiFNSSp1f

— Arwa Damon (@arwaCNN) July 20, 2015
People never expected that something like this would come out of the happy smiles around them in order to rebuild the country for a good cause. This was a selfie which was taken right before the blast. All the people in this are dead now!
Selfie taken right before the ISIS bomb went off in Suruc. All in the photo are dead.

READ: http://t.co/l0ajhesjKr http://t.co/l67SobvXDE

— Breaking News Feed (@pzf) July 21, 2015
Terror doesn't have a nation, race or homeland," he said. "That is why we have been consistent in underlining the need for a global effort to fight terror."