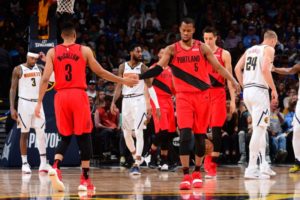 Trail Blazers To Face The Golden State Warriors In Western Conference Finals 2019 After Defeating Denver Nuggets
Damian Lillard, CJ McCollum, and the Portland Trail Blazers are headed to the Western Conference Finals to face Stephen Curry and the Golden State Warriors.
CJ McCollum scored 37 points and led the Trail Blazers to win over the Nuggets in their home court, the final score was 100-96.
When the match started, Damian Lillard was struggling to get his shots to fall in, and with the struggle, Denver took the advantage of Lillard being cold, the score of the first quarter was 29-17.
But CJ McCollum helped the Blazers stay in the match, he gave the Blazers their first lead of the game in the third quarter.
Evan Turner scored 10 points in the fourth quarter to help the Blazers take the W.
The Portland Trail Blazers are set to face the Golden State Warriors on Tuesday in the Western Conference Finals.
During an interview after the match, CJ McCollum said, "I think for us the biggest thing was just to take it one possession at a time."
He added, "We came out a little tight defensively … Our biggest thing was just one stop at a time, one possession at a time."
Terry Stotts, the coach of the Blazers said that the win is "arguably the biggest win we've had in the franchise in a long time."
CJ ended up the match with 37 points, 9 rebounds, 1 assist, 1 steal, and 1 block.