United in Superstition: Are Telugu CM's Are Wasting Public Money on Vaastu?
Though their stands in statehood and governance differs while the Chief Ministers of two states seems to be bonded and united together with their belief in superstitions. It was evident in the past that Chief Minister of newly formed state Telangana K Chandra Shekar Rao has been ruining the public funds missing them with the blind belief of superstition. He had changed his convoy, resident house and many other changes at his place of governing institutions and residence after his incumbent. While what is driving the tech savvy Chandrababu Naidu to be superstitious in his administration in Andhra Pradesh these days is amazing everyone.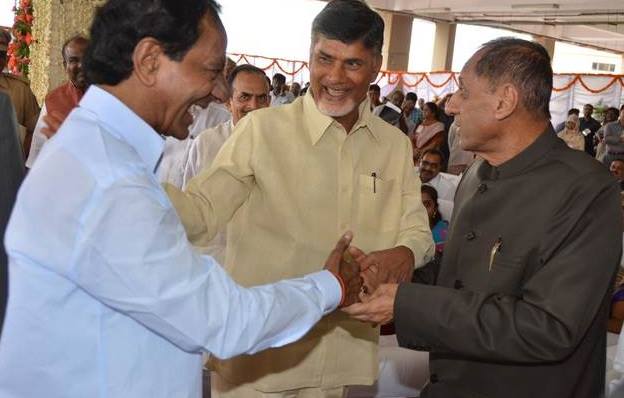 T-CM KCR and AP CM Chandra Babu Naidu Fight with Each Other in Vaastu Changes
Political leaders who have assumed the charges as the public representatives in various levels of governance have been spending the public funds without purpose and blindly believing the superstitious agendas. To get rid off bad omens and evil forces the leaders of both the states of Andhra Pradesh and Telangana have been doing so since a couple of months. Introducing updated technology into governance both the State CM's have been up with the spirit of science and power of technology. Self-acclaimed visionary leader Nara Chandra Babu stood centric in Indian politics introducing the e-governance and the minimum paper usage governance giving iPads for a cabinet meeting. Chief Ministers of both the states have been changing the layouts and architecture of their residences and place of governance with doubtful scientific benefits shelling out public funds.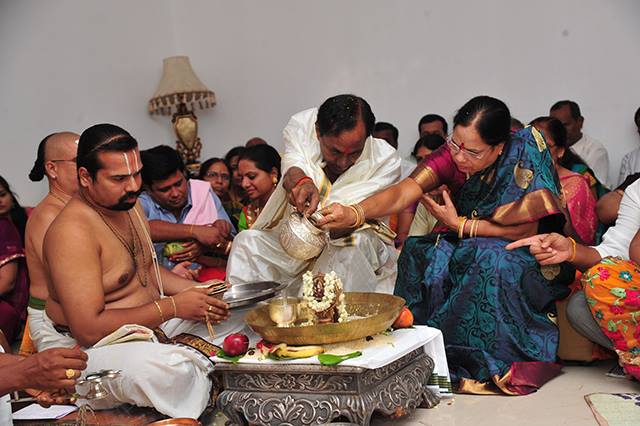 Stone-broke States government officials have been claiming that it is the huge burden of expenditure to be cast on the exchequers of the two Telugu states which are expecting "special packages" from the Centre. Latest Vaastu defect aroused that the current Telangana state secretariat had serious Vaastu defects which could wreck the state and its prosperity in all aspects and he wished to build an extremely modern building which could bring good fortune to the state. The proposed land for the construction of the ultra-modern Telangana state secretariat was identified vast premises of Government TB and Chest Hospital at Erragadda area which would be constructed in accordance to Vaastu and is estimated with a budget cost of Rs 150 crore.
T CM KCR to Construct New T-Secretariat and Showered Costly List of Vows to be fulfilled
T-CM KCR enunciated to media later responding to a query made after proposals of shifting the Telangana state secretariat to Erragadda chest hospital that "None of those who worked, from here (the current building) were happy or prospered. This has serious Vaastu defects. Meaningful heritage is okay. Mindless and meaningless heritage is not okay. We will follow the law of the land for removing heritage structures." As of now this measure of shifting the state secretariat is raising controversies is getting a huge disapprobation from the opposition parties. T-CM KCR earlier made several changes to the official residence at Begumpet and stepped in to assume the house after performing a homam (holy fire). Although, still he feels of some Vaastu defects and opines of shifting into special investigation bureau building which vacant these days.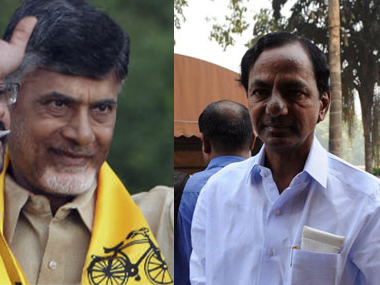 He later proclaimed that a prayer session would take place before starting the construction of the new state secretariat so that all evil forces would be staved off whose construction plan is believed to be approved by him. Adding to this aforementioned if this doesn't fulfill to ward off the evil forces and omens, state government of Telangana would offer special prayers to the deity's and would accomplish the vows which were made by them prior to coming to the governance. T-CM KCR stated that he would personally offer prayers to Lord Balaji to offer gold ornaments costing Rs 5 crore to fulfill his vow and would build a dormitory at Ajmer Dargah with a cost of Rs 5 crore to facilitate only Telangana pilgrims. T-CM KCR listed further his remaining vows which include offering a nose stud to goddess Kanakadurgamma atop Indrakeeladri in Vijayawada, Padmavathi Devi at Tiruchanur, a golden crown to Goddess Bhadrakali and golden moustaches to Veerabhadra Swamy, the presiding deity at Kuravi.
AP CM N Chandrababu Naidu has Good Bonding with Vaastu
CM of Andhra Pradesh has the Vaastu superstitious beliefs since his early days of politics. He is believed to change the direction of the state secretariat to face Hussain Sagar Lake and brought many changes to the entrance of his party headquarters. AP Govt brought in many changes (renovation) after Babu assuming the charges as CM in 'H' Block of secretariat shelling out crores of rupees. T CM KCR said to AP CM Naidu at 'At Home' high tea hosted by Governor ESL Narasimhan that the current CMO which the latter occupied was in contravention of Vaastu postulates on Republic Day which had made Naidu to get his pundits working on that without any delay.
KCR further suggested Naidu to that the capital should be located south of a river course so that doing so would prosper the state government which would make the villages on the banks of the Krishna in Guntur district becoming the Capital Region for the residual Andhra Pradesh. Following the footsteps of their supremos many other ministers and political leaders have made changes and renovated their place of living and place of work. Above all tech savvy AP CM N Chandrababu Naidu is renovating his residence (own house) in Jubilee Hills completely to meet 'Vaastu' requirements. People of the state are astonished with this barbaric behavior both CM's who aspire to follow modern Singapore type changes while live in outdated long back decades.  Share your ideas and comments upon this wild behaviors of T CM KCR and AP CM N Chandra Babu Naidu.