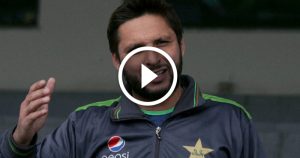 Video: Miffed Shahid Afridi Slams A Reporter Over Captaincy Failure Question With A Smile!
Pakistan Twenty20 captain Shahid Afridi found himself in the middle of a storm by admonishing a television reporter during a press conference after his captaincy credentials were questioned.
"Your record has not been as impressive as previous Pakistan T20 captains, do you think there is a need to change the way you are leading the side," the reporter asked.
Responding to the question, Afridi smiled before letting loose.
Afridi smiled and then let loose: "I expected you to ask such a 'Ghatia' (pathetic and low) question."
The media persons raised slogans against Afridi outside the dressing room at the Gaddafi stadium before a practice match after the spat took place earlier in a press conference addressed by the senior cricketer.
Watch the Video here:
Afridi had also told reporters that he had backed Mohammad Amir only because he felt the youngster was telling the truth and had now reformed himself after the spot-fixing scandal of 2010.
"I backed Aamir because early on he came to me and admitted his mistake and apologised. Then all these years he kept quiet and performed when he got a chance so he deserved a second chance," Afridi said.