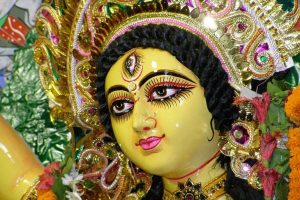 Vijayadasami ( Dussehra ) Status for Twitter BBM Hike Viber
Happy Dussehra (Vijayadasami) this is the hindu festival celebrated in the month of September or October (i.e ashwayuja masam in the hindu calender). This is celebrated nine nights and ten days. The nine days of Navratri is celebrated with the first three days dedicated to Goddes Durga, the second three days to Goddess Lakshmi and the last three days to Goddess Saraswati. Vijayadasami is celebrated on the tenth day invoking the blessings of Goddess Saraswati. On this Special Day Send your friends and Family your wishes and greetings. Here we are providing status for Twitter BBM Hike Viber these festival days change your messenger status show your respect and devotion for this festival.
Happy Dussehra Status for Twitter BBM Hike Viber
Sending your way the gift of divine
blessings to light up your life
with peace and joy !
Wish you Happy Dussehra…..!
May God bless you with all success
on the auspicious occasion of
Dussahra and you may be capable
of defeating all evils of your life.
Everyday sun rise to give us a
message that darkness will always
be beaten by light. Let us follow the
same natural rule and enjoy the
festival of good defeats evil.
Happy Dussehra.
Fortunate is the one
Who has learned to admire,
But not to envy.
Good wishes for a joyous Dussehra,
With a plenty of peace and prosperity.
May maa bless you
With happiness all the year through!
Wishing you a happy durga puja.
Chandan Ki Khushbu Resham Ka Haar,
Saawan Ki Sugandh, Baarish Ki Fuhar,
Radha Ki Ummide, Kanhaiya Ka Pyar,
Mubarak Ho Apko VIJAYADASHMI Ka Tyohar.
May this Dassehra , 
light up for you.
The hopes of Happy times,
And dreams for a year full of smiles!
Wish you Happy Dasara.
A time for celebration,
A time for victory of good over bad,
A time when world see the example of power of good.
Let us continue the same "true" spirit.
Blessing of Dussehra
May all the tensions in your life burn along with the effigy of Ravna.
May you be successful and happy ever!
Happy Dussehra!