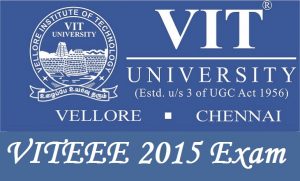 VITEEE Application Form 2015 Notification Exam Dates – Apply Online
VITEEE Application Form 2015 Notification Exam Dates: The Vellore Institute of Technology, Chennai is going to conduct  VIT Engineering Entrance Exam 2015 (VITEEE) for those candidates who want to take admission into the various B.Tech programmes in the field of Bio Tech, Bio Med, ECE, EEE, EIE, IT, Mech, Chem, Civil, CSE, CSE (Bio-Info), Mech (Energy), Mech (Chem), Mech (Auto) and Production & IE courses into this university. The online application form of Vellore Institute of Technology Engineering Entrance Examination (VITEEE) 2015 is available on the official website of the University and in case the students want to obtain the same via offline mode, they can do so from the Head Post offices across the state. Check complete details like Eligibility criteria, Age limit, Educational Qualification, Examination fee, Important Dates below.
VIT Engineering Entrance Examination (VITEEE) Notification:
VIT University formerly called Vellore Engineering College is an Indian institute of higher education and a Deemed University under Section 3 of the UGC Act. Founded in 1984, as Vellore Engineering College, by Mr. G. Viswanathan, the institution offers 20 undergraduate, 34 postgraduate, 4 integrated and 4 research programs. The university and draws students from 50 countries as well as from every state in India. It has campuses both at Vellore and Chennai, Tamil Nadu, India.
The Vellore Institute of Technology Engineering Entrance Examination (VITEEE) is an annual engineering entrance examination conducted by VIT University all over India and abroad. Below we have provided all the details regarding this exam.
Educational Qualification for VITEEE 2015 Exam:
Candidates appearing for the VITEEE in 2015 should have secured an aggregate of 60% in Physics, Chemistry, Mathematics/Biology in the qualifying examination (+2/ Intermediate).
Intermediate or Two-year Pre-University Examination conducted by a recognized Board/ University.
Aspirants with Biology Group subject in 12th class eligible for the Bio Group Engineering Courses.
Age Limit for VITEEE 2015 Exam:
Candidates whose date of birth falls on or after 1st July 1993 are eligible to apply for VITEEE-2015. The date of birth as recorded in the High School / SSC / X Certificate will be considered authentic. Candidates should produce this certificate in original as a proof of their age at the time of counselling, failing which they will be disqualified.
Application fee for VITEEE 2015 Exam:
Candidates have to pay Rs 940/- by DD mode. Candidates have to pay Application Fee through Online mode by Net Banking Debit Card Credit Card.
Application Form and a printed self addressed envelope, can be obtained against cash payment of Rs 990/- from the various post offices as given in the VIT website.
Exam Pattern of VITEEE 2015 Exam– CBT
All Questions will be of OBJECTIVE TYPE.
PART-I – Physics
PART-II – Chemistry
PART-III – Mathematics / Biology
Candidates attempting Physics, Chemistry & Mathematics are eligible for all the 15 programmes offered. Candidates attempting Physics, Chemistry & Biology are eligible for B.Tech. Bio-Medical Engineering, Biotechnology and Computer Science and Engg (Spec. in Bioinformatics) programmes only.
How to Apply for for VITEEE 2015 Exam:
Instructions for completing the computerised OMR application form
The application form should be filled by the candidate in his/her own handwriting.
Your application form will be Machine-processed. First, write in CAPITAL LETTERS the required information. Shade the alphabet/numeral circle corresponding to the above using HB pencil only.
Your photograph, signature and address are to be machine scanned.
Please note that your name, your parent's / guardian's name and your date of birth should be exactly the same as given in your High school / +2 / Intermediate/Pre-University examination certificate.
Write the complete address giving your name and pin code carefully and legibly.
The completed application form should be enclosed separately in the printed envelope provided, addressed to Director-UG Admissions, VIT University, Vellore- 632014
Your application should be sent either by Registered Post or Speed Post in the self-addressed envelope provided by VIT so as to reach the office positively on or before February 27, 2015
Important Instruction For Filling Online Application:
For online application form visit official website of VIT or Click here
Before Applying Online Candidates Read The Instruction Carefully.
Fill the application form and submit.
After the submission of the application form, an application number would be generated.
Candidates must have to write the VITEEE 2015 application form number, Name, Address and Mobile number on the backside of the DD.
Online applicants need not send OMR application form, but they must send the printout of the filled-out Online application form (DD mode applicants only).
Online Test Booking System for VITEEE 2015 Exam:
Online Test booking system is a web based online scheduling system available at official website of VIT
Candidate should first choose the Test City (This should be the same as chosen in the application form) and then the date and the batch for the exams.
The schedule bookings are done on a 'first-come first served basis', and are subject to the availability of the test centre date and time.
Click here to Download Official notification of VITEEE 
Click here to Apply Online
Important Dates for VITEEE 2015 Exam:
Last date for Receipt of Application form – Saturday, February 27, 2015
VIT Engineering Entrance Examination (VITEEE-2015) – April 8 to April 19, 2015
Declaration of Results (Tentative) – Thursday, April 30, 2015
Stay tuned with us for more updates on VITEEE Exam 2015. Keep visiting our site we will update here all the latest news about VITEEE Exam 2015. Press CTRL+D right now to bookmark this page.