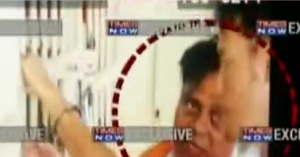 Watch: First Visuals Of Underworld Don Chhota Rajan After His Arrest Inside The Detention Center In Bali, Indonesia
Underworld don Rajendra Sadashiv Nikhalje alias Chhota Rajan, arrested in Bali on Sunday by Indonesian police. The arrest was made on a tip -off from the Australian Police that 55-year-old Rajan had flown from Sydney to Bali. Once a close aide of Dawood Ibrahim, Rajan parted ways after the 1993 Mumbai blasts and remained his fierce rival ever since and is wanted in about 20 murder cases.
The breaking news is you can now see the first video of Chhota Rajan, the most wanted gangster from 2 decades, inside the Detention Center from Bali after his arrest. He was taken to a regular health check up to near by hospital.
Watch first visuals of gangster Chhota Rajan after his arrest here:
Security agencies are likely to send a team of officials in the next two days to bring back gangster Chhota Rajan from Indonesia where he is in custody since Sunday. They said he had been hiding in Australia for seven years.