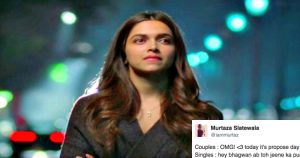 12 'Propose Day' Tweets For All The Amazing Singles Out There
Brace yourself singles! the week of disappointment has come. These seven days are most hateful for the amazing singles. The intense emotional tweets, the heart touching quotes (only for the guys in a relationship), the pout selfies and the expensive gifts, these are the subjects that roam throughout the Internet hurting the singles across.
However, the couples around have this week full of entertainment, entitling the week as Hug Day, Rose Day, Chocolate Day, Propose Day, Kiss Day, Valentine's Day etc..
Some enjoy being single, some feel desperate, meanwhile, there are people who entertain their colleague singles with the thug life tweets, here we picked up some catchy, funny and yet meaningful tweets that could turn you around, then lets you roll on the ground splashing your stomach.
Here are the few tweets for those who feel February 14th is just a typical Tuesday:
1)
Couples : OMG! <3 today it's propose day !!
Singles : hey bhagwan ab toh jeene ka purpose de !!#valentineweek

— Murtaza Slatewala (@iammurtaz) February 8, 2017
2)
https://twitter.com/chai_suttaa/status/829211827028492288?ref_src=twsrc%5Etfw
3)
मेरी आँखों ने चुना है तुझको दुनिया देखकर
किसका चेहरा अब मैं देखूं तेरा चेहरा देखकर
❤ 💓💓#ProposeDay#Roseday#ValentinesDay #JagjitSingh pic.twitter.com/uQkO38EnZ2

— Amit (@dr_amitpandey) February 8, 2017
4)
#ProposeDay Today I propose that there may be no other such days which cause embarrassment to so many becharas around the globe.

— 🖤💔♥️ (@jonitesara) February 8, 2017
5)
#ProposeDay That for sure! 😁😁 pic.twitter.com/mB5Z59U25F

— miss_Funniness (@MFunniness) February 8, 2017
6)
Happy wala Propose Day Folks ❤😍😘
koi toh propose krdo aaj toh ya me nhi Bajrang Dal join krlu . ❤🔫🔫🔫🔫🔫#Oreo 😂😂

— Ashutosh Raja™♛ (@KiNgVickeyRaja) February 8, 2017
7)
Na jane kaise log propose day mana lete hain. Humse toh photographer ko pose tk ni diya jata.@SarcasmHubb

— Raja Mittal (@aww_raja) February 8, 2017
8)
Un Sabhi logon ko bhi 'Happy propose day' Jo pichle 10 saal se ladkiyon ko propose kar kar ke iss din apni izzat ka kejriwal karwa rahe hain

— Jokesknockout (@jokesknockout) February 8, 2017
9)
my response to everything at this point😁😁😂 #ProposeDay pic.twitter.com/knMvvM8UkA

— Hodor🔵 (@RanjithLoser) February 8, 2017
10)
[Propose Day]

[Boy gets on the knees]
GIRL: OMG I can't believe..OMG OMG
Boy [kneels, pays namaaz, gets up]: Appi aap kuch kah rhi thi…

— Drunk BATMAN (@Caped_Humor) February 8, 2017
11)
Propose day pe propose milna toh dur, humko to ab company k SMS bhi nahi aate,
" Main Munni, mujhse baat karein ₹15/min. "

— Suryad!p (@suryadipk9) February 8, 2017
12) And the old, yet classy one!
Frnd: nobody proposed me today. I won't get a valentine this year

Me: So what many ppl dont hav HIV on world AIDS day too.
😂😂 #ProposeDay

— ๏_O (@shashankdongre) February 8, 2017