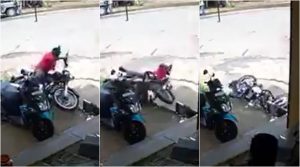 [WATCH VIDEO] This CCTV Footage Shows How Dangerous Parking At The Wrong Spot Or No Parking Zone Is
People in general, don't tend to follow the rules. In our day to day lives, most of us often ignore 'No Parking' signs boards and park our vehicles wherever we want, isn't it? Even though we adhere to it, we mostly care about being fined than our safety.
Reminding us how important it is to park our vehicles in a safe place, IPS officer D Roopa shared a small clip to warn people about its consequences. This video shows how unsafe parking makes a person go towards danger.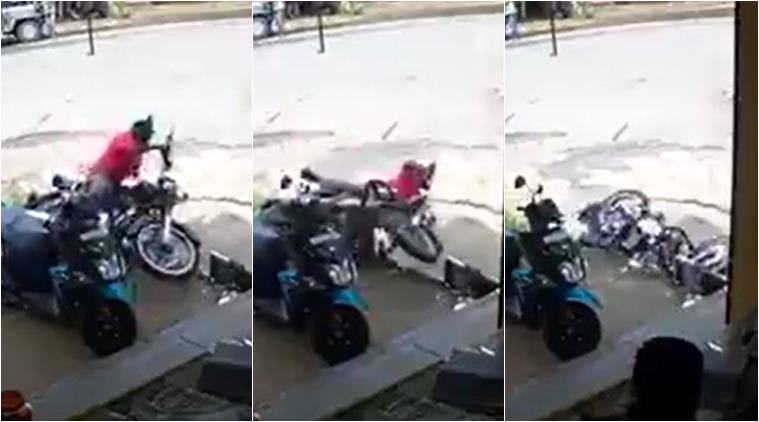 The 30-second-video, shows a man pulling up his bike outside a store in Karnataka, India, and topples over after losing his balance. The man briefly disappears from sight and is helped by passersby.
However, neither the rider nor the bike is visible in the frame, suggesting he fell from a good height. After some time, the driver has seen again and it looked like he was not hurt badly and a deadly accident was averted.
The weird and funny video has been 'liked' over 1800 times and more than 1300 retweets since being put up on Friday. "Park your vehicles in a safe place," wrote D Roopa, a senior Karnataka police officer, on Twitter.
Watch The Video Here:
Park your vehicles in a safe place— pic.twitter.com/mbi1m9JF5k

— D Roopa IPS (@D_Roopa_IPS) October 27, 2017
Although it is not clear where the incident occurred, the date on the CCTV camera suggests it took place on October 20 in the afternoon.
One of the tweets says, "It's really shocking. But one thing to appreciate is people tried to help him soon instead of just recording the incident on their mobiles."