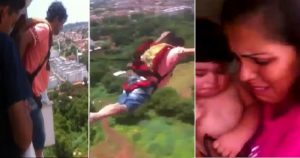 [Watch Video]: Man Jumps Off Balcony Wearing A Parachute 'He Bought Online' As Crying Woman And Child Begs Him Not To Do It
With the increasing usage of the internet and social media sites, the world is getting crazier day by day. Some people are becoming so wild that they sometimes end up doing some deadly and weird stunts without taking proper care and professional concern to get popularity and fame out them.
This proves the act of Stupidity that people are depicting often on the internet for no good reason calling it has a thriller stunt. And this bizarre incident proves it all, read the whole story here…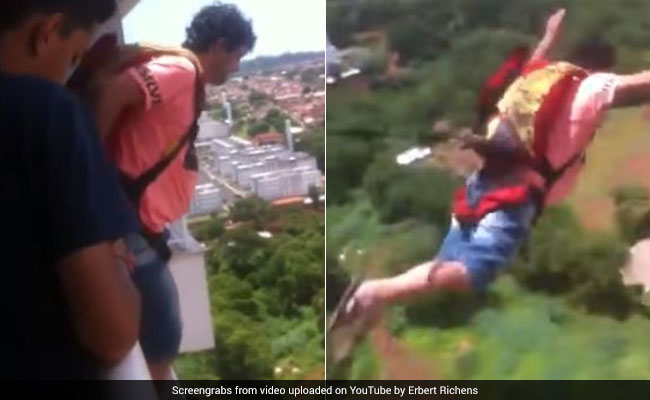 What would drive a fully grown man to jump off a balcony? That's the question we're left with after seeing this viral video, believed to have been filmed in Brazil, which is breaking the internet now.
In a shocking display of bravado, a man jumped off his balcony wearing a parachute that he reportedly bought online. This is the frightening moment took place in Brazil where a woman and a kid can be heard and seen crying and begging him not to do so.
The footage shows a man in a pink T-shirt, shorts and flip-flops stands on a ledge on an upper floor of a high-rise apartment block before preparing to perform his daredevil stunt. In this moment of madness, there were two other men standing next to him capturing the whole incident but are not advising the man not to do something so foolhardy.
The thrill-seeker then counts down from three before leaping from the balcony, despite the poor woman and the child who was crying and begging him not to jump to test his online bought parachute and bring to fruition his idiocy.
Watch the full video below:
To everyone's relief, he appears to make a safe landing in the bushes. The anguished woman can be seen crying at the end. Nobody knows what prompted the man to make the dangerous jump and if he was trained to handle it all by myself.
The identity of the man who jumped off with the parachute and the exact location of the building is not known. The video has gone viral on YouTube and received over 1.3 million views since being uploaded two days ago.
However, many people have bashed the man very badly for his stupidity and thirst for brownie internet points. While some saluted his bravery, others hit out at the stunt, claiming it was 'irresponsible' and 'stupid'.
What do you say about this stupid act? Let us know your views in the comments section below.
We shouldn't have to say this; but do not try this, at home, at someone else's home or at all.