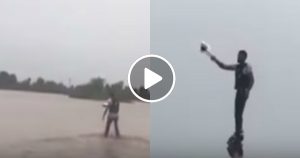 [WATCH VIDEO]: Man Performs Most Badass 'Ganga Aarti' Ever, Flies In The Air
Rituals reflect the ideologies of the religion or community. Now, when it comes to that, India is the best example of heterogeneous kind of people. With Hindus, Muslims and Christians constituting major portions there's no room for boredom.
A plethora of magnificent rituals is part of Hinduism of which 'Ganga Aarti' always remains as an eye treat to watch.
People could rarely miss the astounding view of the gallant giant sized utensils used to give Aarti. Now that the ritual has its concrete importance, people will make their unique attempts to impress the gods. Starting with the matters of the size of the crowd and the way the Aarti is given, there is certainly no limit to the possibilities.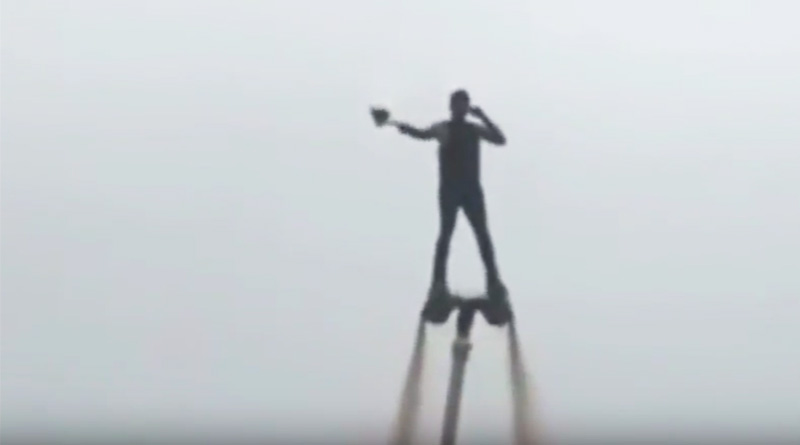 Recently, a man performed 'Ganga Aarti' in the air, started seeping into the water at the beginning, he then surprised the crowd flying on like "Hrithik in Dhoom 2".
He did this with the help of a hydraulic pump, stood firmly on a fly-board, as he holds a beacon for the "aarti" when it went around in circles. No trace of fury is found in his face, the video went viral on the social media platforms. With complete stability, he did it appropriately. As of now, no information regarding the person or the place is found.
Watch the video here:
Related Article: Twitterati's Bizarre Requests To The PM Modi Are Cracking Up The Internet After He Sent His 'Shiva Stole' To A Woman