Twitter Goes Berserk As Mia Khalifa Punches A Man For Taking Selfie With Her, Without Her Concern
The fanbase Mia Khalifa carries is quite innumerable, her presence on social media is always there. So, here's a viral story that is taking rounds on the Internet, related to a fan alleging Mia slapping him. It must be said one who doesn't know about this 'Internet's so-called innocent girl' should bid adieu to the Internet.
Mia Khalifa, the most curious name in the porn industry, who earned the lead tag within the very few months of her debut is now also going popular on Twitter. She is probably the most known name in the industry after Sunny Leone.
Started her career in Pornography in October 2014 and by December she was ranked the number 1 performer on the website, Pornhub. Though she left the adult industry very soon, she is quite active on social media. A Twitter user who goes by the name Hudspeth has accused the former porn star of hitting him and leaving him with a bruised face when he took a chance photo of her.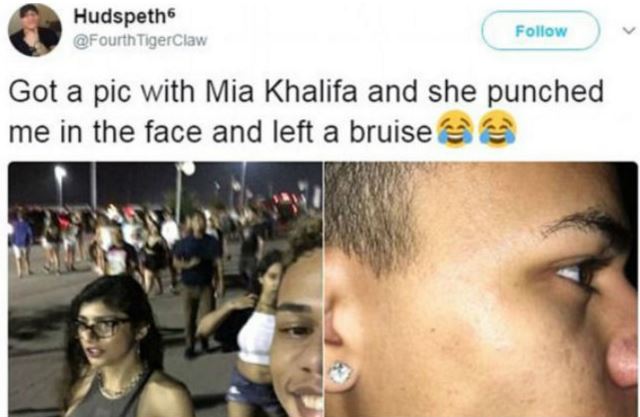 Actually, the man who claimed to be a fan wanted a selfie with her but instead of asking her, he went ahead to click the picture. This action did not please the former porn star that hit the man and left him with a bruise on his cheek, according to him. However, Twitterati did not forgive the man for his actions, went bashing the same.
Hudspeth on his Twitter account posted two photos, one in which he is trying his best to get captured with her, and in another, he is showing his cheek claiming that he is hit by her. He captioned "Got a pic with Mia Khalifa and she punched me in the face and left a bruise." According to the Daily
According to a popular English daily, his tweet has gone viral, is liked and retweeted thousands of times. However, a lot of people defended the Lebanese-American Mia Khalifa on Twitter claiming that she has always been lovely when asked for selfies, some of them even shared the selfies they took with her.
Check out the reactions here:
https://twitter.com/modest_maya/status/879185587999318016
Over here looking for the bruise like pic.twitter.com/f2cM1Z3aCw

— Esau Moaaliitele (@saaaauuu1) June 26, 2017
I think it's because you didn't ask her.

— House of Lunit (@houseoflunit) June 26, 2017
me trynna find that bruise pic.twitter.com/H8eGdGjgEk

— im not gay but homegirl can, like, get it (@size9timbs) June 26, 2017
probably cuz you're just being a paparazzi, doesn't look like a mutual moment

— benjamin (@freakinben) June 26, 2017
You were the sweetest. Thank you for asking me nicely rather than jumping in front of me while I was walking & shoving a cam in my face https://t.co/1fQK0B5gSi

— Mia K. (@miakhalifa) June 26, 2017