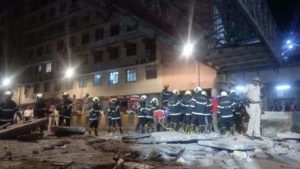 Mumbai: 6 People Dead After Overbridge Collapses Near CSMT Station
6 people were killed and 32 were injured after an overbridge near the CSMT railway station collapsed, 2 nurses were among the 6 who passed away. The incident happened on Thursday evening.
The 2 nurses have been identified as 40-year-old Ranjana Tambe and 35-year-old Apoorva Prabhu who worked in the GT Hospital since 2005. All the injured people from the incident were also brought to the GT Hospital. Ranjana and Apoorva were headed to the hospital for their night shifts. Ranjana Tamber worked in ward number 6 and Apoorva worked in the operation room.
This is the third bridge that collapsed in Mumbai in the past 18 months. Last year, in July, a pathway build for pedestrians over the Andheri Train Station in Mumbai collapsed that injured 5 people and killed 2. In 2017, the Elphinstone Bridge collapsed which caused the death of 23 people.
The overbridge near the CSMT railway station collapsed on Thursday evening by 7:30 PM. Civilians that were under the bridge also got injured after the bridge collapsed.
PM Narendra Modi tweeted about the incident and said: "My thoughts are with the bereaved families. Wishing that the injured recover at the earliest. The Maharashtra Government is providing all possible assistance to those affected."
Davendra Fadnavis, The CM of Maharashtra, said that the government has started a probe and will arrest the person responsible for the incident. CM Davendra added that the bridge was checked last year and was labeled as structurally safe.
CM Davendra also announced a compensation of INR 5 lakhs to the families of the people who got killed in the incident and INR 50,000 for the ones who got injured.