Netflix Indonesia is going 'bananas' over this Telugu movie clip and Twitterati can't keep calm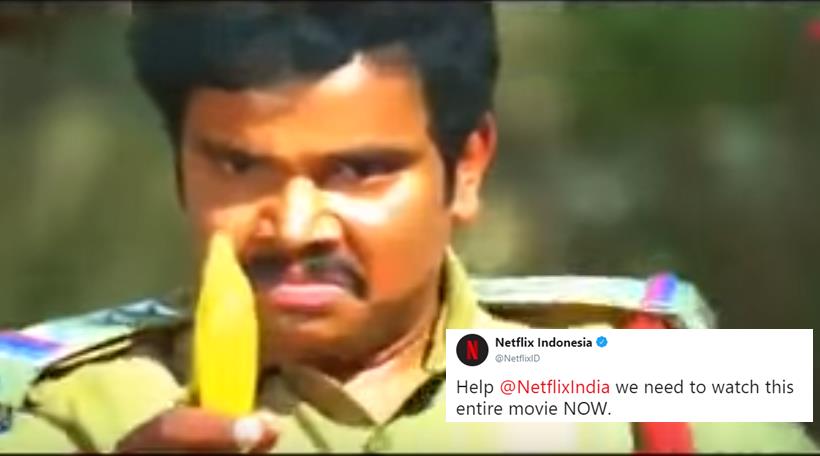 Kollywood and Bollywood movies are known for their exaggerated stunts. Even though those movies get a lot of appreciation from fans around the world, sometimes they become a meme.
Recently, Indonesia went crazy after watching a short clip from an Indian movie, fans from Indonesia requested Netflix India to help them identify the movie so that they can watch it.
You may wonder what made fans around Indonesia go so crazy about a short clip.
Well, who would not, after seeing a cop single-handedly killing and put an end to a dozen villains by using a BANANA!!
Yes, you read it right. A banana, which is what the cop used to defeat a dozen villains, the cop does have a great taste in choosing a weapon.
Help @NetflixIndia we need to watch this entire movie NOW. https://t.co/hvlORuY7wT

— Netflix Indonesia (@NetflixID) December 26, 2018
What really impressed everyone was the response of Netflix India, they wrote "OMG this. Is. Bananas. 10/10 would watch a sequel to The Night Comes for us with only fruit as weapons."
Any action and/or fruit packed movie recommendations, @NetflixIndia?

— Netflix Indonesia (@NetflixID) December 26, 2018
This scene was from the movie Hrudaya Kaleyam Also known as Singam123 that starred Sampurnesh Babu, a well-known actor in the Telegu Industry.
This was not the first time that Sampurnesh Babu made a lot of people laugh, after watching the clip, many Indonesians went on a quest to find more hilarious clips that he was part of, surely he did not let his fans down.
😂😂 don't mess with #sampuneshbabu pic.twitter.com/svl0ooYs2t

— brugu (@wwwbrugu) December 28, 2018
Haha enthusiasm. It's not that easy to watch movies like that, you must have a strong heart
Anyway as per you wish I will help you out, try this @NetflixIDhttps://t.co/iXo5Mnl60F https://t.co/NxTA5x6OUR

— krishna prasad (@krishnaprasad_L) December 28, 2018
🍌 can be brutal! https://t.co/gletrApVgj

— Karthik Rangappa (@karthikrangappa) December 28, 2018
Koi jabaw Nahi.
Gajab ka kela hai bhai#🍌🍌🍌🍌🍌🍌🍌🍌🍌🍌 https://t.co/ZuXhD0zIHe

— Shubheshwar jha` (@Shubheshwarjha1) December 28, 2018
Beat this DC Marvel https://t.co/1NycVFZbtl

— mohit bhuwania (@mohit_cric) December 28, 2018
Yes yes
This is #rajni and #Matrix reloaded https://t.co/x6ZWyQ28hO

— Amol Pawar (@NUESTAmol) December 27, 2018
@sampoornesh wow… Wt a movie.. 🍌 🌟 banana as a weapon.. Super bro.. Need this type of movies more and more for entertainment..u r really a BURNING STAR. GOD BLESS U. 🙏😎😍😘 https://t.co/qF1CyZrdK9

— SrinivaS (@IamSrinivasN) December 27, 2018
😂 can't believe @NetflixIndia will now have to get Sampoornesh Babu's movies on the site!!!! 🤦🏻‍♀️🤦🏻‍♀️ Please no, you already have enough content to distract us from our routine.. https://t.co/E34IPDBWQf

— Prerna (@prairriee) December 27, 2018
Better bullet dodging technique than that of NEO in the Matrix😂

— Protagonist (@invincible_ron) December 27, 2018
Dear @netflixid, It ain't on @NetflixIndia if it doesn't feature @radhika_apte 🙂 https://t.co/C6nESZML42

— Khal-Nair (@nitinnair81) December 27, 2018
Looping in our own #Burningstar @sampoornesh. Mind you @NetflixID, he spits hot fire. https://t.co/cGVwlZBq5E

— Jai Nair (@J_Ubermensch) December 27, 2018
Oh, you ain't seen nothing yet. Behold, greatest surgery ever. https://t.co/9Urn1EDCZJ

— Karthik T (@KarthikTmuthu) December 26, 2018