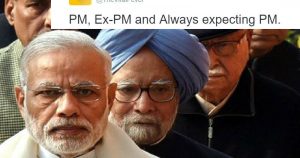 Netizens Can't Stop Captionizing This Picture Of PM Narendra Modi, Manmohan Singh & LK Advani On Twitter
Swapping out the humor with tweets has become quite necessarily a common thing these days. Earlier, PM Narendra Modi's pictures were far highlighted.
This time, a combo picture of prominent leaders is set on twitter drawing huge attention from netizens.
A group picture of PM Narendra Modi, former PM Manmohan Singh & LK Advani is making rounds on twitter handles.
Details of the photograph include PM Modi looking at the camera, Manmohan Singh behind him, then senior Bhartiya Janata Party member and MP LK Advani and lastly Union finance minister Arun Jaitley. Not to forget, there's Union home minister Rajnath Singh in the picture as well.
There was always been an issue unless it exists really or made up by social media. From the past one month, demonetization unintentionally made a pathway to burst us in laughter through the funny tweets and memes, precisely on ATM lines and opposition party reactions.
According to to the sources, the photo was clicked when the leaders were paying their tribute to the martyrs at the plaque in Parliament House who lost their lives during the December 13, 2001, Parliament attack.
Leaders in attendance included Rajya Sabha chairman Hamid Ansari, Lok Sabha speaker Sumitra Mahajan and Congress president Sonia Gandhi.
Tweets like "PM, Ex-PM and Always expecting PM," were showered on the picture which has gone viral.
Further, tweets like below are taking over the internet
New 2000 note
Old 1000 note
Old 100 note pic.twitter.com/pCW2Ue40IG

— Chuniya Mama (@daalrice) December 13, 2016
PM, Ex-PM and Always expecting PM. pic.twitter.com/Wd3GQiMiuR

— The Viral Fever (@TheViralFever) December 13, 2016
When desi uncles are doing the railgaadi routine in a shaadi and catch you smoking in a corner. pic.twitter.com/OJlJSN80eG

— Sand-d Singh (@Sand_In_Deed) December 13, 2016
When you see paanipuri wala serving paanipuri to girls only.. pic.twitter.com/hYPFygIKOy

— Keh Ke Peheno (@coolfunnytshirt) December 13, 2016
When you're standing in ATM queue and the person in front takes out second card pic.twitter.com/8OpnbIQYD7

— dorku (@Dorkstar) December 13, 2016
https://twitter.com/Atheist_Krishna/status/808709967477751812
Captain.
Former captain (tainted for fixing).
Coach.
12th man. pic.twitter.com/MySCicvNTO

— Keh Ke Peheno (@coolfunnytshirt) December 13, 2016
PM with former PM with former PM in waiting pic.twitter.com/kjrIh20BmJ

— one tip one hand_ (@OneTipOneHand_) December 13, 2016