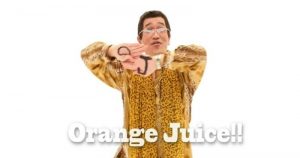 PPAP Singer Is Taking Internet By Storm With His New Single 'I Like Orange Juice'
PPAP has given a massive hangover to the viewers, netizens went crazy over the trippy song. This illogical, meaningless yet intriguing song ruled the meme world for a while.
Pikotaro didn't give up yet, he popped on to YouTube to set fire again. He posted his brand new single 'I like Orange Juice' which is going viral on social media. The yellow costumes, plain background and the wacky moves were as creepy as before except the song's leaning more on Juice, rather than fruits.
Earlier, the PPAP became popular not only in Japan but has widely spread around the globe. Upon the successful release of the song in September, "Pen Pineapple Apple Pen," that made a history for being the shortest song to be featured on the US Billboard Top 100 Singles.
The song conquered millions of minds with its funny and viral content. Many social media users went forward making their own versions of the song.  song continuously getting public attention even if it actually is nothing but a combination of words and notes.
It is quite interesting to observe songs like PPAP and the Juice song going viral despite a couple of lines and words intruded as lyrics.
Right after hitting the billboard list, Piko-Taro released another song and as of this writing, the fruit themed song collected millions of views on Youtube.
It seems like Piko-Taro is trying to make 2017 the year of Orange Juice, his viral video was now taking the social media by storm!
Watch the video here: