Sanju Leaked before release, and fans are distraught.
Sanju which released yesterday is probably the most awaited film of this year. The performance of the actor Ranbir Kapoor in the film has blown away every one.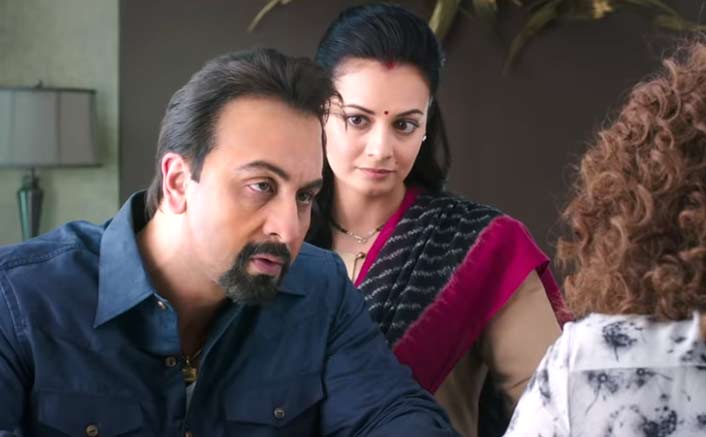 But, in a shameful act of piracy, the film just got leaked on social media and fans are not happy about it. Though some people enjoyed the movie, but the quality of the video which is leaked seems like a hall recording. Piracy has become a huge problem these days and movies are getting leaked now and then.
However, apart from that hall recording, hd quality was leaked as well. Which has left everyone shocked? The film started trending on social media with hashtag #SanjuLeaked. The hashtag #SanjuLeaked began to trending and gaining a lot of traction on social media. It wasn't any ordinary print, but that too HD quality!
People who saw the film couldn't believe the quality, but many fans were left disappointed.
Talking about Sanju, apart from this sad news of piracy. The film packs outstanding performances by actors. Even Sanjay Dutt loved the film, who choose to watch the film after the release even though he was offered a chance to watch it before.
According to Rajkumar Hirani, after watching the film, Sanjay Dutt couldn't control his emotions and hugged him and Ranbir Kapoor. He liked it so much that he asked for a sequel of the film. As he has so many more story that is untold and couldn't be covered in a single film.
However, Rajkumar Hirani made it clear that no sequel will be made on the film. As a person can only have one biopic.
Ao far, everyone who has watched the film loved it and is blown away by the performance. And the fact that Rajkumar Hirani didn't glorify the life of Sanjay Dutt and presented it in a sincere way. Makes it even more beautiful. Films like these are not a common thing nowadays.
WTF!
#SanjuLeaked i can't believe that too in full HD

— Salman Abdi (@SalmanAabdi) June 28, 2018
#SanjuLeaked Really Shocking
Say No To Piracy ?

— Տυʍíт (@Sks_warrior) June 28, 2018
Just received the link of #SanjuLeaked .
You won't believe, it's in HD

Last time, I have gotten the link of #ManjhiTheMountainMan before 10 days of release.
That was also in HD

— Yes,I'm a freak ? TF (@Toofani_Devil) June 28, 2018
WTF
#SanjuLeaked
Sad to hear this..

— kunal #kick (@iKunnu_Kick) June 28, 2018
That is why we urge everyone to say "No to Piracy" and enjoy the film in your nearest theaters. Piracy is a disease which needs to eradicate. Without everyone's support, it won't be possible.