Sonali Raut Trolled for Her Dress on Iftar Party. Netizens Called Her A 'Hooker.'
You may remember Sonali Raut from the film Great Grand Masti and Big Boss. Although she disappeared from the limelight after a while now she is back. Making headlines, the model recently attended Baba Siddique's Iftar party. But that's not why she came back in headlines, what she was wearing in the Iftar party brought her back in the limelight.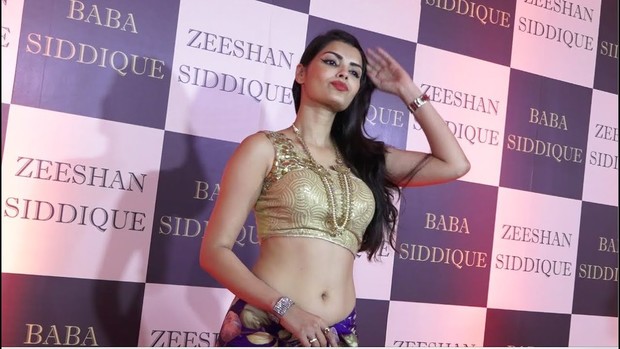 Sonali Raut chose to wear a shimmering golden crop-top to this party. And teamed it up with a tie-up blue skirt. The outfit left the whole of her midriff exposed. Here are some pictures of the model-actress at the party:
Sonali then posted a lot of pictures, including a photo with the host Baba Siddique. As soon as she was done with the party, she posted all the pictures on Instagram.
She credited the outfit designer and the host of the party.
But soon, netizens started commenting cheap things about her. They started calling her 'Hooker' and many more worst kind of things. Some pointed out that in Iftar party it's not right to wear such revealing dress.
It seems like netizens have declared war on the model. This is not the first time that controversy surrounds Sonali. Even back in her 'Bigg Boss 8' days, the model made waves when she simultaneously flirted with fellow contestants – Gautam Gulati and Upen Patel. Which made headlines back then as well.
A social media user wrote, "Maybe she's not fasting with Muslims, but at least she must respect the holy month!!! I don't know if ppl will accept when she is gonna any religion festival in this dress!"
Other celebs like Hina Khan, Mouni Roy, Yuvika Chaudhary and Shama Sikander, who also attended the Ramadan event, wore beautiful traditional outfits.









Back in Bigboss days, she was also famous for slapping Ali Quli Mirza. Well, what are your views on the matter? Do you think she does all this just for publicity? Or do you think it's her choice to wear whatever she likes, and no one has the right to tell her what to do or not?. Let us know your views on the matter down in comments.