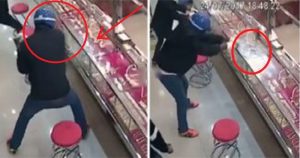 This Video Of Thieves Trying To Loot A Jewellery Store But FAIL MISERABLY Is Super Fun To Watch!
On a regular basis, it is a common news that all over the world, we come across stories of loot, robbery and shoplifting; however, with the help of CCTV cameras installed in shops and malls, not a number of people dare to commit such crimes but still, these kinds of incidents take place.
Yes, the world is filled with daring and talented people so called Thieves who always find out ways of accomplishing tasks, no matter how difficult they appear to be.
You might have heard about incidents of robbery many times where almost all of them end up writing the losses incurred by store-owners but today we are here to tell you about a robbery which will leave in the laughter after seeing miserable fate of thieves.
Yes, you heard it right!
Recently, CCTV footage from the store in Kedai Emas Sri Alam jewelry store in Malaysia has recently gone viral, showing a gang of four armed thieves – their faces covered with helmets – and tried to bust open the glass counter attempting to rob a jewelry store.
But thanks to the wonder glass made with polycarbonate used in the display, the goons couldn't even touch the collectibles. 
The CCTV video was uploaded by the store's Facebook page chronicles, the men in helmets took the help of hammers to smash the display. But all their efforts went in vain subsequently.
Watch Video Here: