Maggi Ban: Maggi Packets Are Sold At Inflated Prices in South Delhi
After facing a ban from the Indian government, Indian's favourite noodle, Maggi is sold almost like an illegal drug deal experience. Yes, Maggi packets are sold in south Delhi's Vasant Vihar market in a very secretive manner that too for a higher price. The once easily available two-minute noodle which is sold for just Rs 10 is now being sold for as much as Rs 102 in South Delhi .
Nestle has withdrawn Maggi instant noodles from sale in India citing "an environment of confusion for consumers", after a food scare triggered by a domestic regulator's report that some packs of the popular snack contained excess lead.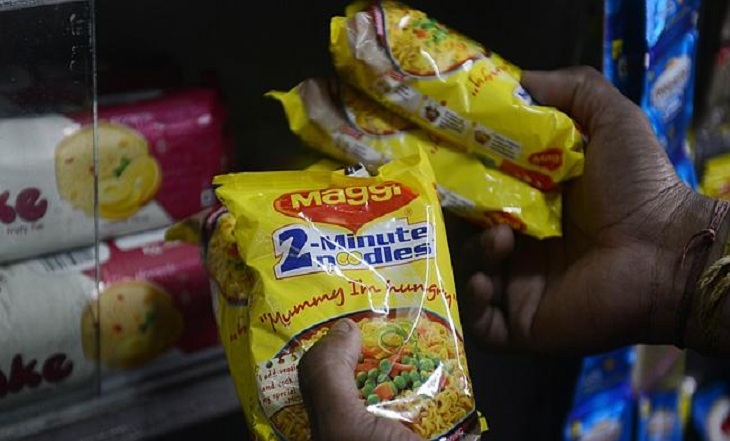 Looking at the soaring demand from remaining Maggi lovers, shopkeepers in south Delhi started selling those Maggi Packets at inflated prices. But unless you are a familiar face, the 'packet' is not sold. The shopkeeper does not allow you to buy more than two packets and the yellow packet is carefully wrapped in a black plastic bag to avoid trouble which looks nothing less than an illegal drug deal experience.
The recent ban on Maggi noodles resulted in Nestle pulling out all its stock from the stores across the city. But some shops, however, seem to have kept their final batch of Maggi Packets to themselves. "We do not want to get into any trouble and therefore we do not entertain any request for Maggi in our shop. We only take orders and deliver the packets to people we know," said the shop owner.
"This batch was not taken from us so instead of just throwing it away we are selling it to people. If people are ready to buy these at whatever price we quote then why throw it away?," A shopkeeper from Vasant Vihar told Hindustan Times. He also said that he is still left with a few last packets and as the quantity is getting limited, the price is automatically going up.
The local grocers of west Delhi's Janakpuri-C1 are also selling the packets but not over the counter. The orders of packets are taken over the phone and delivered to customers' doorstep.
The FSSAI had called all the Maggi noodles back, but still, a lot of the noodles packets were found stashed in a remote village of West Bengal, from where the shop owners at Silk Road, marketplace of Deepweb, managed to get their hands on those precious packets. And they started selling those Maggi Packets at the rate of 0.01 BTC which is approximately 200 INR for a single packet of Maggi.