Sunita Williams Among Four NASA Astronauts to Test Fly Commercial Spacecrafts
NASA has selected four veteran astronauts on Thursday to train for launch aboard new commercial crew capsules being built by Boeing and SpaceX that are intended to ferry astronauts to and from the International Space Station starting in 2017 and prepare for commercial spaceflights that will return American launches to U.S. soil and further open up low-Earth orbit transportation to the private sector.
Station veteran Sunita Williams, along with shuttle veterans Robert Behnken, Eric Boe and Douglas Hurley are the candidates for initial test flights and will work with both companies as they develop the new ferry ships. Boeing holds a $4.2 billion NASA contract to develop its CST-100 capsule, a spacecraft designed to carry at least four astronauts. SpaceX holds a $2.6 billion contract to build a human-rated version of the Dragon capsule currently used to carry cargo to the space station.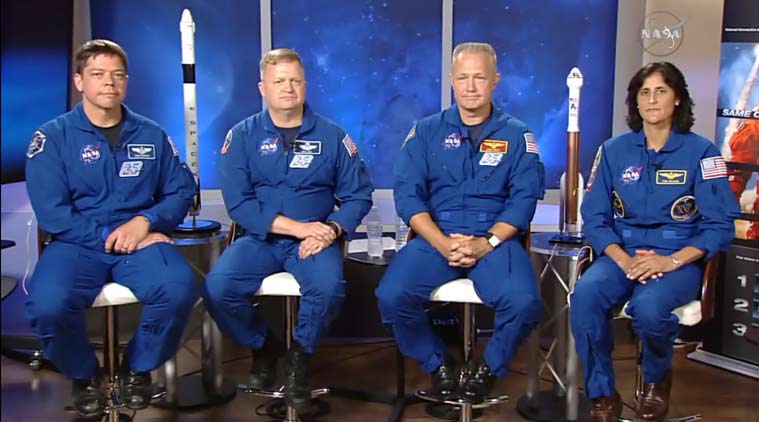 Boeing is expected to send a company pilot aloft with a NASA crewmate for the CST-100's first test flight. Company officials have not said who might be on board, but many believe it likely will be Chris Ferguson, commander of the final shuttle mission, who now spearheads Boeing's commercial crew program. It's not yet clear whether SpaceX plans to fly a company employee or whether the first piloted test flight of a human-rated Dragon will include two of the NASA astronauts named on Thursday.
Experience of the selected Astronauts:
Sunitha Williams, a Naval Academy graduate and military helicopter pilot, has logged more than 3,000 hours flying more than 30 different types of aircraft. She also logged 322 days aboard the International Space Station during two long-duration stays, including more than 50 hours of spacewalk time. Douglas Hurley is a former Marine colonel with more than 4,500 hours flying time in a variety of high-performance aircraft. He spent more than 28 days in space during two shuttle flights and flew with Ferguson as pilot of the final shuttle mission in 2011.
Eric Boe is an Air Force colonel with 5,000 hours flying time and nearly a month in space during two shuttle flights. Robert Behnken, also an Air Force colonel, served as NASA's chief astronaut for the past three years. He is a veteran flight test engineer with 1,300 hours of flight time and 29 days in space on two shuttle missions. He also logged more than 37 hours of spacewalk time helping build the International Space Station.
Astronauts about the Test Fly:
"It's really been the dream of all of us to participate in the test of a new vehicle, and a vehicle like a spacecraft is probably the gem, if you will, of a career," Behnken said. "I would have been embarrassed as a test pilot school graduate to not have jumped at the opportunity, if it was offered to me, to fly a new spacecraft. Hopefully, I'll get that chance soon." said Hurley. "To be part of a new test program is extremely exciting. The challenge from a test pilot perspective is great, and I'm just looking forward to get from today all the way up to the space station." "It's really critical for the United States to regain its own launch capability, and the commercial crew program will allow us to do that," Williams said.
NASA has began planning for commercial crew ships in the wake of the Obama administration's 2010 decision to focus the space agency on deep space exploration and to turn "existing" flights to low-Earth orbit over to private industry. Boeing plans an unpiloted test flight in early 2017, followed by a pad abort test to demonstrate the ability of its on-board propulsion to pull the craft away from a malfunctioning booster. Assuming all that goes well, the first piloted test flight will come in late 2017. SpaceX already has carried out a successful pad abort test and plans an unpiloted test flight in late 2016, followed by an in-flight abort test.
Cost of the Test Fly:
The Obama administration asked for $1.2 billion, but the Senate has indicated it wants to cut $325 million while the House has weighed in with a proposal to reduce funding by $225 million. NASA managers have repeatedly said any such shortfall would delay the initial flights, extending U.S. reliance on Russian Soyuz spacecraft for rides to and from the space station. In a blog post, NASA Administrator Charles Bolden said initial commercial crew flights already have been delayed by earlier cuts. "Had we received everything asked for, we'd be preparing to send these astronauts to space on commercial carriers as soon as this year," he said.
"As it stands, we're currently working toward launching in 2017, and today's announcement allows our astronauts to begin training for these flights starting now. Our plans to return launches to American soil also make fiscal sense," he continued. "It currently costs $76 million per astronaut to fly on a Russian spacecraft. On an American-owned spacecraft, the average cost will be $58 million per astronaut. What's more, each mission will carry four crew members instead of three, along with (220 pounds) of materials."