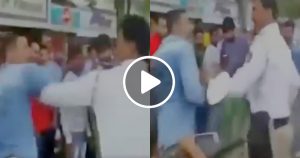 [WATCH VIDEO]: Traffic Constable Gets Slapped In Mumbai For Stopping A Man From Jumping Signal
There are so many incidents in which common people were blamed or hurt by the traffic cops, so many reasons and excuses, however, there is no denial in that, but something adverse happened in Mumbai's Vasai.
To everyone's surprise, in this case, Traffic police has become the victim, got slapped by the motorcycle rider. The news is now going viral as the video surfaced Internet drawing some serious concerns.It
It all started when the cop caught the rider for allegedly jumping a signal on Sunday. Now, Sohail Memon, the rider, was riding the motorcycle without the helmet. His wife and child were seen seated on the pillion. The whole scene was captured on the CCTV camera installed on the road in Vasai (West) and a non-cognisable offense has also been registered against Sohail.
One can see in the video Sohail slapping the constable Kalu Munde on his left cheek, this happened around 7 pm. Following this scene, the cop took photographs of the two-wheeler and the rider and approached the police to complain about the matter. However, no arrest has been made as of now.
According to the sources, Vasai traffic inspector Sampatrao Patil as saying that an NC has been registered with the police.
#WATCH: Man in Thane's Vasai slaps traffic policeman after the policeman stopped him for jumping traffic signal #Maharashtra pic.twitter.com/wt1F8fR6cE

— ANI (@ANI) August 11, 2017
Sampatrao then added that a case will be filed against Memon under section 353 (assaulting a government servant) after the investigation is completed.
Related Article: Watch: UP Traffic Police Tow His Bike, What This Man Did Will Make You Laugh Out Loud !!