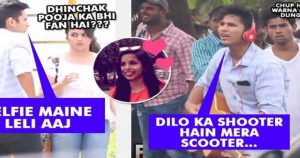 This Man Sings Dhinchak Pooja's Songs In Public, People's Reactions Will Leave You In Splits
Listening to Dhinchak Pooja's weird numbers has already become an obvious brain-eating thing. People, in general, play her songs when they have an intention of irritating others, tagging our peers on her Facebook posts, sharing her videos on someone's timelines, Dhinchak Pooja has become the medium of teasing.
Earlier, Internet's new sensation Dhinchak Pooja was made the scapegoat for India's loss in Champions Trophy Finals. People went bashing her in possible ways, trolled her extensively on social media, but there's nothing that can stop her, as she herself said in a Facebook post, "Nothing can stop a girl who is blessed by God."
Related Article: 10 Things You Need To Know About The Latest Pop Music Sensation "Dhinchak Pooja"
Now, who knows why God hates us so much! However, with her new previous' like the musical number 'Dilon Ka Shooter' she once again trended on the YouTube for the utmost time.
But coming to the individual opinions, what do people do when Dhinchak's song is played? How will people react when someone approached them all fo sudden and sings out loudly? Well, let us not scare you now.
Popular YouTube channel 'Funk You' did this crazy deed, the group attempted to sing the Dhinchak's songs in public and record people's reactions. Now, there's no much difference from the expectations, but checking out those faces will definitely leave you in splits.
Thanks to her lyrics, they're catchy and can be sung hilariously anywhere. Starting from an elderly woman to college students, the guy sang Pooja's 'greatest' hits like – 'Selfie Maine Leli Aaj', 'Daaru' and 'Dilon ka Shooter' and literally none could hide their true emotions upon hearing the songs.
Watch The Video Here: