Shocking Reason Behind Indian Batting Collapse Against The New Star "Mustafizur"
There has been a lot of criticism against the Indian team for loosing so dreadfully against the Bangladesh in the first two ODIs and giving away the series to their hands. Now, looking to avoid what they call the "Banglawash". The major set back for this kind of performance was due to many different reasons and mistakes from Indians side, but never the less we need to appreciate the performance of Bangladesh and its new star "Mustafizur" a 19-year-old pacer. After analyzing his performance and the statistics in both the ODIs, one thing is clear that this man is a gem!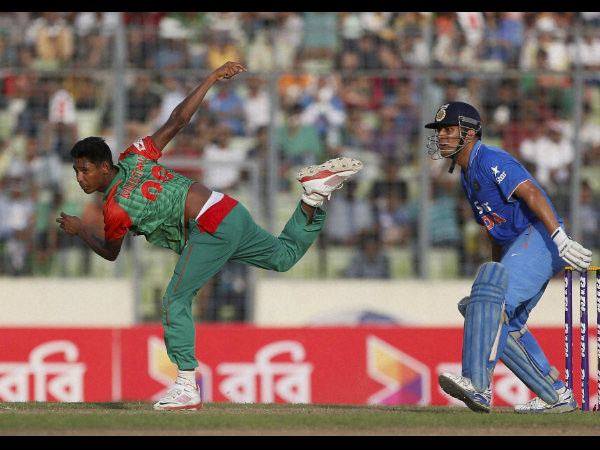 The Main Reason:
Here's why! The young Bangladesh bowler might not be as swift as the greats in the game, but what he could get out of the wicket is something amazing. His lack of experience and imperfection shows up when he bowls with the new ball, but as the new ball turns old the magic of the bowler comes out which proves to be genius!
Mustafizur is gifted with a strong wrist, which enables him to make the ball jump as well as break off the wicket. 
Complete Case Study of What Happened in The Series So-Far
In the first ODI, Chasing a target of 307, India were more or less on track, having lost just three wickets at 105 with opener Rohit Sharma leading the run chase. With the wicket on the slower side and ball showing signs of wear and tear, Bangladesh skipper Mashrafe Mortaza called on pacer Mustafizur Rahman, who by then had finished his first spell of four overs and had conceded 27 runs at an economy of 6.75. It has become his  penultimate delivery of the 21st over of India's innings .This  19-year-old pacer Mustafizur who had gone unnoticed until then.
But what followed later has brought up so much respect for this young bowler. When Mustafizur's 29th delivery, bowled slightly wide of the crease, pitched on leg and invited Rohit to go for the on-drive. But it has been turned out to an mystery  to Indian batting  behind  what lead Rohit did not pick and what Mustafizur had loaded the ball and makes his way. The ball deviated from the track and took a leading edge of Rohit's downswing. And suddenly, Mustafizur had arrived. Debutant Mustafizur takes down Rohit sharma.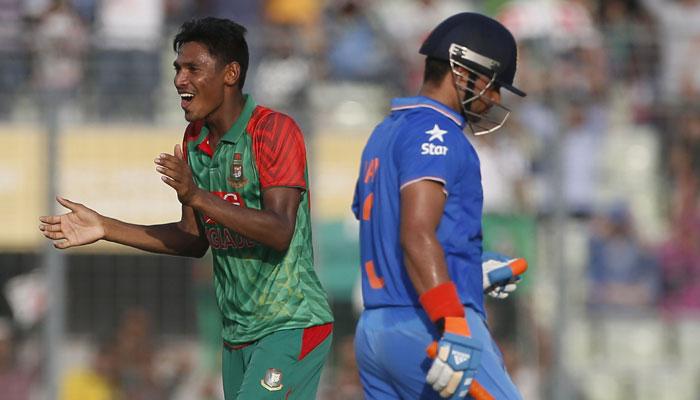 When India scores counts 115 with three wickets lost and with Ajinkya Rahane on strike, Mustafizur once again rolled his fingers and snapped his supple wrist, giving the ball additional revs. With a quick arm action, Mustafizur is gifted with a strong wrist, which enables him to make the ball jump as well as break off the wicket. He is aware  that his slower one or the leg-cutter has to have some pace in order to take the batsmen by surprise.
That is exactly what had happened a ball before Rahane lost his wicket. The Mumbai batsman had stroked his usual pacey delivery for a boundary and wasn't expecting that he would produce something like a fast leg-cutter.That was it. Mustafizur ran and once again rolled both his fingers and wrist over the seams and Rahane fell into the trap, scooping the ball to cover. Rahane's struggle at the crease ends! His uppish drive is well held by Nasir Hossain, giving Mustafizur his second scalp.
Repeating it again In the second ODI,
Mustafizur Rahman – the hero of the first ODI – starts with a bang! Rohit Sharma is gone for a duck, caught at point.Mustafizur is aware that in order to make his slower ones effective, he will have to impart a little pace on them, combining it with a wristy  tweak.And because the fall in speed is so minimal, the batsmen have tended to go in for the expansive drive. And immediately, they are done in with the break off the wicket.
No one is expected that Mustafizer could produce something like a fast leg-cutter , which foxes  Rahane in first ODI carries to get MS Dhoni got out to a similar delivery, after failing to reach the pitch of the ball. All the Indian captain could do was to gently scoop the ball into the hands of cover.
Mustafizur also owns a perfect follow-through. It is this aspect that allows him to land the ball on the three-quarter length. And it was both these factors that castled Suresh Raina in the first ODI. Mustafizur invited the southpaw to drive and ended up dislodging his off-stump through the gate. This is not too different from what a left-arm spinner does. Mustafizur comes back into the attack and strikes! A short, rising ball is edged by Raina and Litton completes a simple catch behind the stumps. Just as an orthodox looks to push the ball during the slog overs, Mustafizur makes sure his arm completes a quick follow-through.
Immediately after dismissing Raina, the left-arm seamer foxed Ravichandran Ashwin with a similar delivery and found himself on a hat-trick. Though he didn't get one, each of his five wickets that day were gained off the cutter. From the little that we have seen of him, Mustafizur's pluses just keep on adding up. So far, in his short international stint, he doesn't allow a batsman to settle.
After dismissing Dhoni with a slow ball, he found Axar Patel napping and darted a quick delivery on to his pads. Later Ravindra Jadeja was sent home in a similar fashion. With 11 wickets in two games, Mustafizur has quickly darted to stardom. He now has more five-wicket hauls in ODIs than Shane Warne and Kapil Dev. But, of course, it is far too early to rate him among the greats.